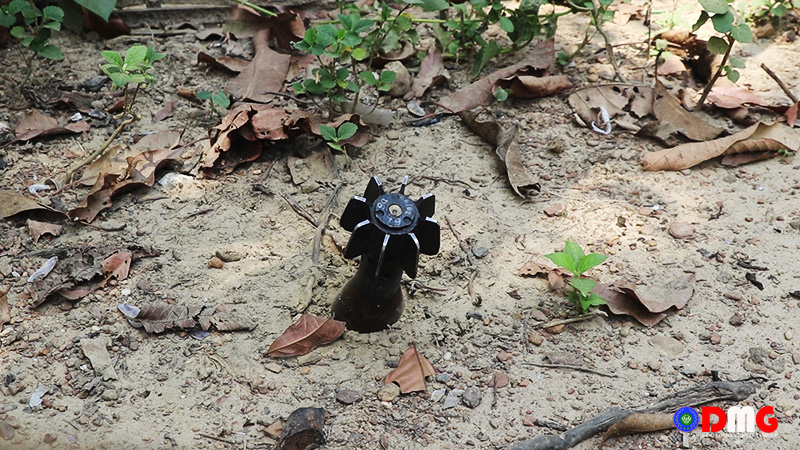 Aung Htein | DMG
14 November 2020, Sittwe 
One man was killed and three others were injured in separate bomb and landmine blasts in Arakan State's Myebon and Ann townships on November 13, according to locals.  
The fatality, 20-year-old Ko Maung Than Aung, was working on a section of the Yangon-Sittwe road about 2 miles from Lithon village in Myebon Township when an explosive device detonated on Friday, killing him and injuring two others, said Lithon village resident U Toe Sein Aung.  
"The victims are road construction workers. They found a bomb while they were taking a rest in the shade of a tree. One died on the spot and two others sustained injuries in the blast," he said. 
The two surviving victims, a man in his 30s named U Myint Than and his 1-year-old son, were admitted to Ann Hospital with injuries to their legs and buttocks.  
"As far as I know, one was killed and two others were injured in a bomb blast near Lithon village," confirmed U Pe Than, the Lower House MP for Myebon Township. 
Meanwhile, U Pe Win of Natmaw village in Ann Township, was seriously injured when he stepped on a landmine while going to his farmland near the village on the morning of November 13, according to locals. 
"The victim lost one of his legs after he stepped on a landmine while going to his farmland," said a resident of Natmaw village, which is part of the Dar Let Chaung village-tract. 
According to family members, the 73-year-old victim was seriously injured and is currently being treated by a Tatmadaw unit stationed on a hill near the village. 
Rural people from Dar Let Chaung and Kazukaing village-tracts in Ann Township who earn their living by farming are often reluctant to tend to their fields in fear of landmines. However, they alternatively face livelihood hardship if they forgo cultivation or harvest.  
Unexploded ordnance from the conflict in Arakan State is frequently encountered by civilians, with many killed and maimed in incidents like those reported on Friday. 
Hostilities between the military and the Arakan Army have flared with regularity in western Myanmar since late 2018, and from June to November 14 there have been at least 53 deaths and 155 people injured due to landmine explosions, artillery or small arms fire, or other combat-adjacent violence.