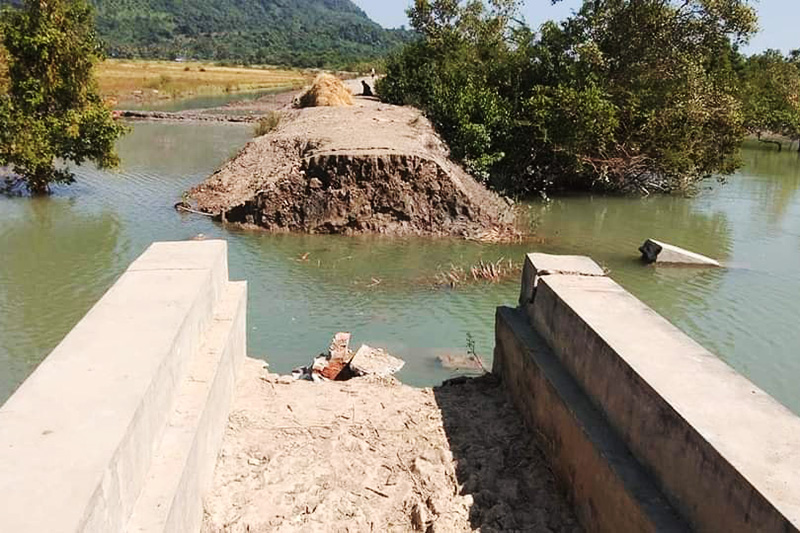 Aung Kaung Zaw | DMG
21 November 2020, Kyaukphyu
A tidal surge of the Gantgar River has overwhelmed an embankment gate in Kyaukphyu Township, resulting in the flooding of more than 400 acres of paddy and jeopardising the crops of some 200 farmers, locals said.
Following the breaking of the embankment gate on November 17, the paddy fields near Kyaukphyu Township's Taguntaing and Myochaung villages were inundated, said farmer Daw Ma Khin Pu of Myochaung.
"The gate was broken due to riverbank erosion. As paddy fields have been flooded with salty water, the condition of the paddy is not good. The river water has reached near the village," she said.
"Farmers are sad that their paddy has been damaged," she added.
The broken embankment is more than 40 years old and more than 200 farmers in the area have relied on it to keep the river's waters at bay, locals said.
Arakan State Hluttaw lawmaker U Phoe San of Kyaukphyu Township's No. 2 constituency said he did not have any immediate ideas for what to do about the flooding as he had not yet been given specifics on the situation.
"I was at the Hluttaw and all I know is the gate was broken. I don't know anything else," he said.
Kyaukphyu Township administrator U Soe Moe Kyaw did not answer multiple phone calls from DMG.