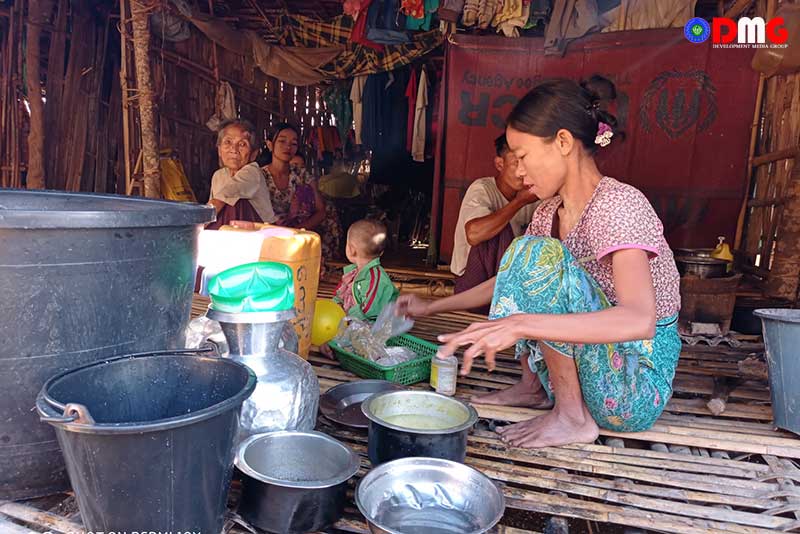 Hnin Nwe | DMG
10 December 2020, Sittwe 
Lawmakers and civil society organisations took the occasion of Human Rights Day on December 10 to call for an end to human rights violations in Arakan State, including unlawful civilian arrests and in several cases a subsequent lack of information on the detainees' whereabouts.  
According to figures compiled by DMG, from June to December 10 a total of 107 people were detained on suspicion in Arakan State, where conflict between the Tatmadaw and the Arakan Army (AA) also killed 50 people and injured 138 more over the same period.  
Pyithu Hluttaw lawmaker U Pe Than from Myebon Township said the government needed to rescind its declaration of the Arakan Army as a terrorist group. He asserted that this peacemaking gesture would help gradually reduce unlawful detentions and deaths in military custody, which have been recurrent features of the Tatmadaw-AA conflict.  
"The Tatmadaw and AA have started to talk for peace. I think human rights breaches in the state will decrease if the government negotiates with them by putting in more effort. I'd like to ask the government, Tatmadaw and AA to work together to end the war in Arakan State," said the MP. 
U Khaing Kaung San, director of the Wan Lark Foundation, said not only members of armed groups, but also government authorities are guilty of violating human rights. 
"Departmental officials sometimes do not know whether they are breaching human rights. Today, those who support International Human Rights Day by flying the flag of peace were arrested. They were not even protesting," he said. 
One issue that has been the subject of repeated protests and human rights advocates' criticism is long-running, government-imposed internet restrictions in several Arakan State townships and Chin State's Paletwa Township. 
Ma Htoo Htet Naing, an Arakanese youth, said the internet restrictions should be lifted immediately because people in the affected areas are facing deteriorating economic, social, educational and healthcare-related circumstances. 
The disconnectivity could also increase the risk of human rights violations, she said, as activists and average citizens alike are deprived of the internet as a valuable reporting mechanism for reaching the wider world.  
"I object to the internet shutdown. If the government wants to stand as a dignified government, it should lift the ban immediately," she said. 
Ma Htoo Htet Naing added that the government should release those who have been unlawfully detained in the course of the Tatmadaw-AA conflict, and should seek justice for the families of victims unlawfully killed. 
Meanwhile, police arrested three youths who organised a demonstration in Sittwe on Thursday morning to commemorate Human Rights Day, with participants denouncing human rights abuses in Arakan State. The trio were released on bail later the same day.