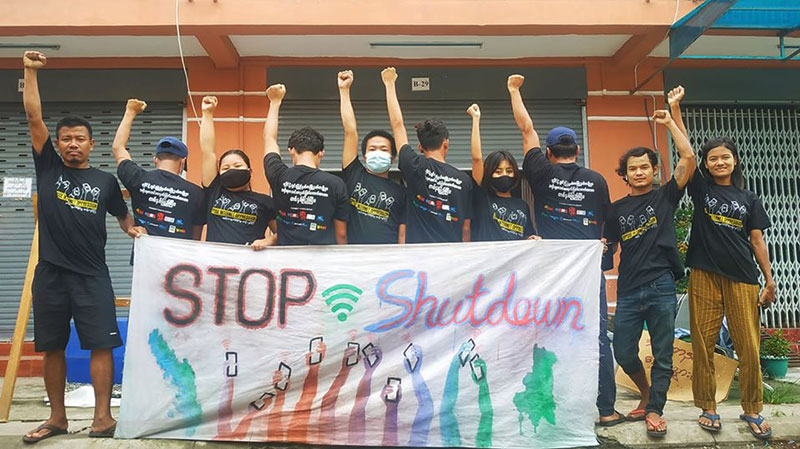 Min Htun | DMG
25 December 2020, Sittwe 
The Yangon-based freedom of expression advocacy group Athan has called for the resumption of full internet services throughout Arakan State. 
Ongoing internet restrictions in several Arakan State townships have negative impacts on health, educational and social aspects of people's lives, said Athan research officer Ko Ye Wai Phyo Aung. 
"It is critically important to immediately lift internet restrictions and resume full internet services. I would like to suggest that internet services be resumed today," he said at the launch of an Athan report on access to information and digital rights in Myanmar on Wednesday. "And it is important that the government does not just nominally resume internet services, but rather provides full 4G mobile internet services." 
Ko Ye Wai Phyo Aung also called on the government to provide internet access in parts of Kachin, Chin and Mon states, and Tanintharyi Region, that have never had mobile data services. 
Lawmakers, local and international nongovernmental organisations, and foreign embassies have called in vain for the resumption of full mobile internet services in Arakan State and Paletwa Township, Chin State, where access is limited to a 2G network currently. 
"The Union government fails to provide equal rights for ethnic regions. It restricted internet access because it does not want to grant equal rights for non Bamar-majority areas and ethnic regions," said Arakanese activist Ko Min Bar Chay aka Ko Than Hla.  
Lower House lawmaker U Aung Thaung Shwe of Buthidaung Township was equally critical of the government's internet policy in the affected townships. 
"The government's view is that full internet access should not be provided. It has imposed restrictions intentionally because it thinks we should not have human rights and equality. This shows the stance of the government toward us, and how repressive it is toward us," said the MP. 
The military has previously said the leaking of sensitive information about Tatmadaw operations and positions was one of the primary reasons for throttling the internet, as well as describing it as intended to stop the dissemination of extremist rhetoric, hate speech and misleading information online. The government has similarly cited the security situation in Arakan State as justification for the internet restrictions. 
But locals and lawmakers say those security rationales are less and less relevant as the military and Arakan Army appear to have reached a tentative ceasefire last month. 
The government initially blocked internet access in the Arakan State townships of Buthidaung, Maungdaw, Rathedaung, Ponnagyun, Kyauktaw, Myebon, Mrauk-U and Minbya, as well as Chin State's Paletwa Township, on June 21, 2019. Limited connectivity has been restored intermittently in the months since.  
For most of the affected townships, the situation since August of this year has allowed mobile internet users to connect to a 2G network (in contrast to the 4G networks enjoyed by the rest of Myanmar) that critics say is too slow to execute even basic online functions.