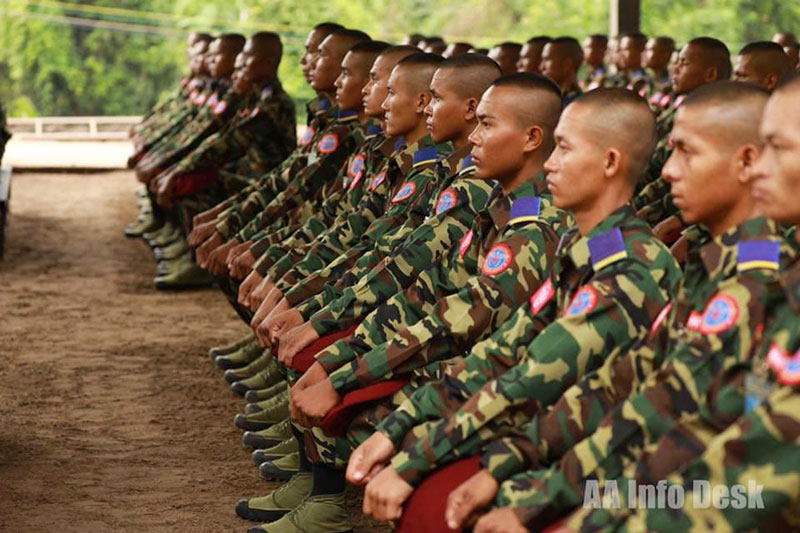 Aung Htein | DMG
12 January 2021, Sittwe 
The National League for Democracy (NLD) foresees the withdrawal of its designation of the Arakan Army (AA) as a terrorist organisation, pending clarifications to be presented by the Tatmadaw. 
NLD spokesman Dr. Myo Nyunt said security issues would be key to rescinding the declaration of the Arakan Army as a terrorist organization, adding that the union government would take it into consideration based on a report by the Tatmadaw, which is responsible for the nation's security. 
"The Union government must focus on security affairs in order to withdraw the Arakan Army as a terrorist organisation. For security, we need the support of the Tatmadaw, which has the main responsibility. We believe that the Union government will consider the Tatmadaw's endorsement of disbanding the Arakan Army as a terrorist organisation," the ruling NLD spokesperson said. 
A proposal in the Arakan State parliament on January 11 urged the Union government via its Arakan State counterpart to rescind the designation of the United League of Arakan/Arakan Army as terrorist groups in order to build peace. 
U Tun Thar Sein, an Arakan State lawmaker for Mrauk-U Township, put forward the proposal and the state legislature decided to continue the discussion as there was no objection by the lawmakers. 
"This is an appropriate move as it is a proposal that the Union government should address for the necessary situation in Arakan State. The government must also consider the proposals submitted by the Tatmadaw and the Arakan State legislature. We believe that the Union government will adjust the two proposals and take them into account," Dr. Myo Nyunt said. 
The government declared the AA/ULA to be unlawful associations and terrorist groups on March 23, 2020. 
Despite a tense military situation between the Tatmadaw and the AA in Arakan State over the past two years, the gunfire has ceased for more than two months, in the wake of the country's November 8 general election.  
Leaders of the two groups have held three rounds of talks since the Tatmadaw welcomed the AA's call for make-up elections in cancelled constituencies in Arakan State. 
The government sent a draft ceasefire agreement to the four Northern Alliance members, including the Arakan Army, on December 16, with hopes that it can be signed this month. 
U Zaw Htay, a spokesman for the President's Office, said the government would discuss ceasefire prospects with the four ethnic armies of the Northern Alliance on a case-by-case basis. The deployment of troops on both sides will be discussed, he told a press conference at the President's Office in Nay Pyi Taw on January 8.