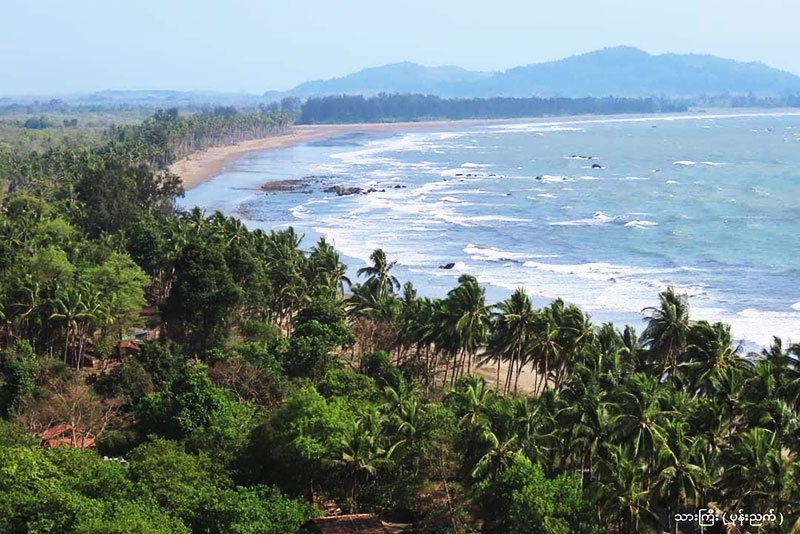 Thiha | DMG
12 January 2021, Gwa 
The Directorate of Hotels and Tourism in Arakan State is aiming to make Gwa Township a new destination for travellers as part of larger efforts to develop the state's tourism industry, said U Ye Aung Moe, manager of the directorate. 
The new travel destinations in Gwa will target travellers who are visiting neighbouring Ngapali, he said. 
"The islands in Gwa Township are beautiful, like Pearl Island near Ngapali Beach. We went and checked there once. We will go there one more time. We are going to advertise about tourism destinations in Kyaintali town, Gwa Township, after we have completed some renovations there," he added. 
The Kyauk Taw Yaung environmental conservation park in Kyaintali town is about 80 acres and travellers can observe rare trees and birds there, according to the directorate.
There is also a tortoise conservation centre in the park, it said. 
"We held public awareness events to make community-based tourism in Gwa Township based on Ngapali Beach. There are beautiful beaches such as Shwe Ya Chaing, Kyauk Chun Chaing, Chan Thar and Thin Paung Taung," said Dr. Maung Maung Kyi, chair of the Rakhine Coastal Region Conservation Association. 
Gwa Township boasts mangrove bonsai, tranquil and sometimes unusually shaped islands, and breathtaking bays, the association says. 
The directorate has drawn up a five-year-plan covering 2021-2025, including long- and short-term projects intended to develop the tourism industry in Arakan State, it said. 
At present, Thandwe, Sittwe, Kyaukphyu and Mrauk-U townships are Arakan State's primary tourism destinations. 
The arrival of local and foreign travellers in 2020 was down 25% compared with 2019 due to regional instability and travel restrictions related to the COVID-19 pandemic, according to figures from the directorate.