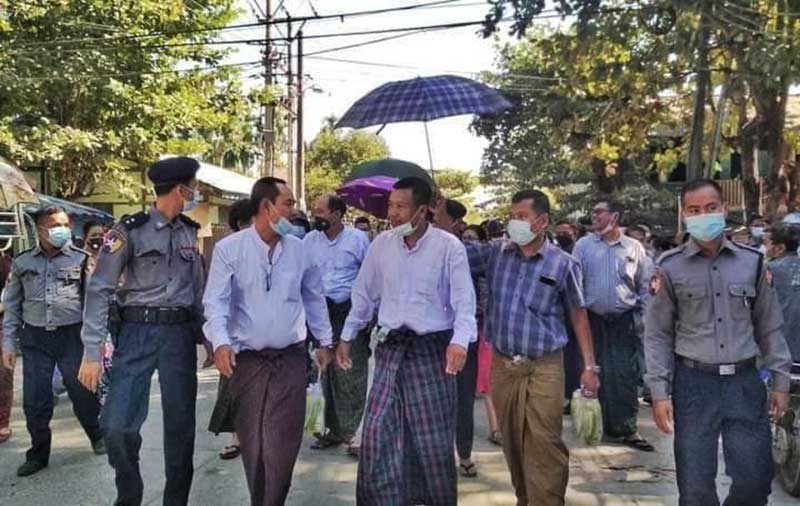 Aung Htein | DMG
23 January 2021, Yangon
The local court in Arakan State's Taungup Township will hear closing arguments in the case of two former Taungup Township development committee chairmen who were arrested in May along with two others over their alleged ties to the Arakan Army (AA).
The trial has featured 13 prosecution witnesses and the court heard the final one, the Taungup Township police chief, at a hearing on January 22.
"The defendants were charged under Article 52(a) of the Counter-Terrorism Law for supporting and supplying a terrorist organisation. So far, the prosecution has failed to produce enough evidence," said defence lawyer Daw Theingi Maung.
The prosecution and defence lawyers are set to present their closing arguments at the next court hearing on February 5.
"We are both physically and mentally exhausted from the lawsuit," said Daw San San Aye, the wife of defendant U San Ngwe, who is a former Taungup Township development committee chairman. "It has impacted not only our social life but also our work. We want the case to be finished as soon as possible. Then I want them released."
U San Ngwe, along with the vice chairman of the Arakan National Party in Taungup Township, U Wai Thaung, another former township development committee chairman, U Zeya Kyaw, and his brother U Sithu Kyaw Zan, were arrested in May of last year. On June 30, the four men were arraigned in a lawsuit brought by Police Major Zaw Myint Tun, who accused them of having illegal ties to the AA, including providing the ethnic armed group with food. 
The government declared the Arakan Army to be a terrorist organisation on March 23, 2020.
The four have been held in detention since their arrest, and there have been more than 20 court hearings. If convicted, they face up to seven years in prison.
A total of 362 people were arrested on suspicion of having ties to the Arakan Army over the course of conflict between Myanmar's military and the ethnic armed group dating back to late 2018, the Thazin Legal Institute said earlier this month.