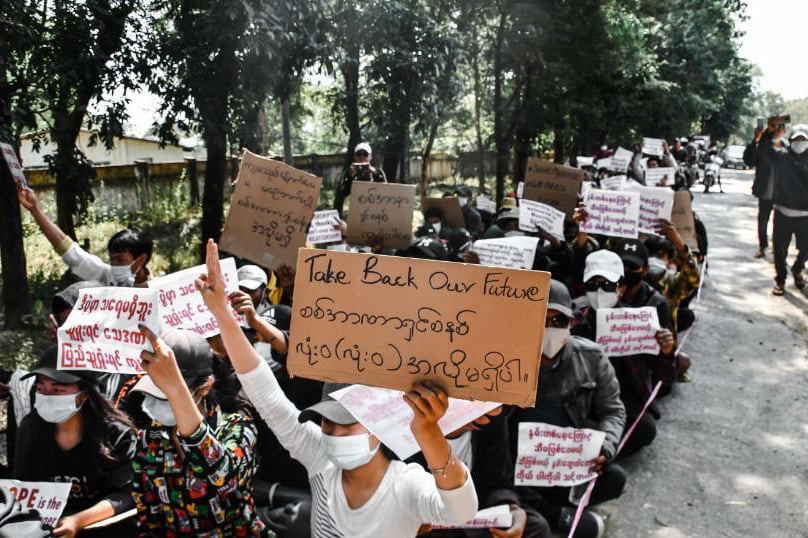 DMG Newsroom
24 February 2021, Ann 
A court in Ann Township, Arakan State, has reportedly levied fines of K80,000 ($57) each for seven locals accused of participating in a protest against the military coup earlier this month. 
"A person was fined K50,000 under Section 25 of the Disaster Management Law and K30,000 under the Peaceful Assembly and Peaceful Procession Law, for a total of K80,000," said Ko Myo Lwin, a resident of Ann Township. 
The seven people were charged under the Disaster Management Law by the acting township administrator, U Shwe Aye, and the Peaceful Assembly Law charge was brought by township police in connection with a February 9 demonstration against the dictatorship. 
The detainees, a group that includes teachers, students and a bank employee, were released on bail on Wednesday after being remanded into police custody for two weeks. They appeared before the court the same day, when the verdict was handed down. 
One local resident, who spoke on condition of anonymity, said some people who took part in the protests were being evicted due to outstanding arrest warrants. 
"Seven people have escaped without being arrested," he said. "They are fleeing because the police will continue to try to arrest them." 
When asked if there were any related arrest warrants, the Ann Township police chief referred DMG to Police Inspector Kyaw Zin Oo, saying he was busy with other matters. 
DMG phoned Police Inspector Kyaw Zin Oo, who replied: "I don't know about the case because I am outside the police station."