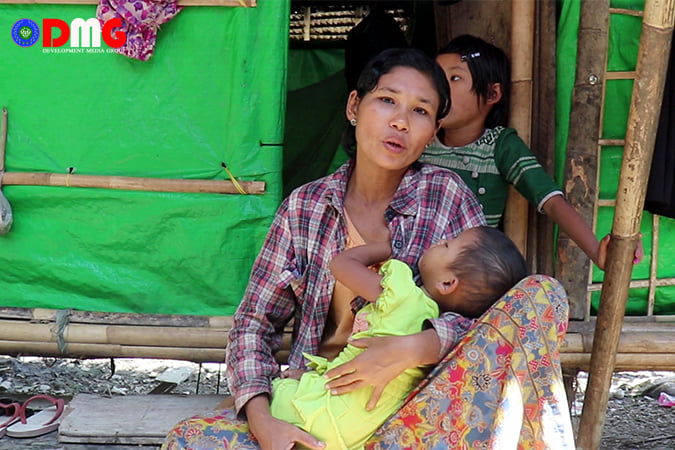 DMG Newsroom
25 February 2021, Sittwe

A couple sheltering at a displacement camp in Sittwe after being wounded in fighting between the military and Arakan Army in Rathedaung Township are in need of financial assistance to have shrapnel surgically removed from their bodies.

Daw Aye Than Nu was hit in the head by shrapnel when artillery shells fell on Kyaukyan Thazi village in August of last year. Her husband U Kyaw Aye had shrapnel embedded in his left foot.

Shrapnel remains in Daw Aye Than Nu's head, and she sees a doctor monthly due to her condition. She said she has suffered from terrible headaches in the months since the shelling at Kyaukyan Thazi village.

"I have to see the doctor every month. The doctor from Sittwe has asked me to receive treatment in Yangon, but I can't afford to go to Yangon," said Daw Aye Than Nu.

The artillery blast caused her to lose sight in her left eye, and she was told by the doctor that she might also go blind in her right eye if it is left untreated.

Her husband U Kyaw Aye, meanwhile, has not been able to walk normally due to the shrapnel in his foot.

"I was hit in both feet as well as in my chest. I've recovered from the other injuries, but shrapnel remains inside my left foot. And I can't afford a surgery to get it removed," he said.

Daw Aye Than Nu and U Kyaw Aye have eight children, and the family is currently taking refuge at a Buddhist monastery in Sittwe.

The couple had made a living doing odd jobs around their village, but over much of the past half-year they have not been able to work due to their injuries. They said they have had to borrow money from friends and relatives to cover their medical costs.

"I'd like to ask for help from social organisations and civil society organisations. Only with their help will we be able to remove the shrapnel," said Daw Aye Than Nu.