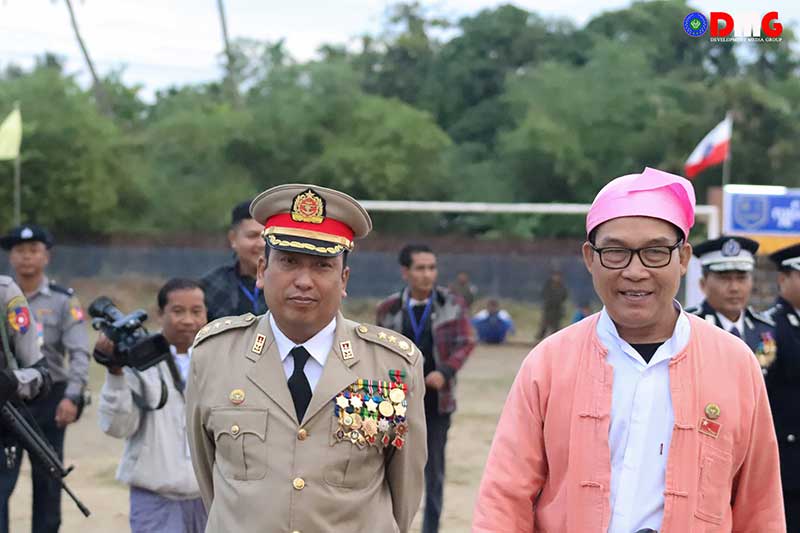 DMG Newsroom
4 March 2021, Sittwe 
U Nyi Pu, the detained former Arakan State chief minister who has been charged with incitement under Section 505(b) of the Penal Code, appeared via video link for a court hearing in Sittwe on March 4. 
The case management procedures were laid out at Thursday's hearing, according to U Myo Myat Hein, a lawyer representing the ex-chief minister, adding that the next court hearing is scheduled for March 17. 
"The court decided how many days to complete the case and how many days to finalise it. We held a coordination meeting on the case today," the lawyer said. 
U Kyaw Thein, the deputy administrator of Sittwe Township, filed the lawsuit against U Nyi Pu with the Sittwe Township Court on February 22, when the ousted former chief minister made his first virtual court appearance. 
U Nyi Pu is not in prison at present, but is being held in military custody, said U Myo Myat Hein. 
"U Nyi Pu told the judge that he wanted to be able to face the court in the form of an ordinary person. When the judge asked U Nyi Pu what he had to say to the lawyer, the ex-chief minister said he had nothing to say in this situation," he added. 
Family members have not been in contact with U Nyi Pu since his arrest on February 10, and his whereabouts remain unknown, according to his daughter Ma Kyi Kyi Oo. 
"We have not been in contact with my father yet. ... I want to know my father's health situation. When we contacted the concerned departmental officials, they didn't say exactly where he was detained," she said. 
The ex-chief minister was detained in an initial roundup of National League for Democracy (NLD) government leaders during the military's February 1 coup, but he was released two days later and placed under house arrest. U Nyi Pu was arrested for a second time on February 10.
Section 505(b) of the Penal Code imposes a sentence of up to two years in prison for anyone who "makes, publishes, or circulates any statement, rumour, or report with intent to cause, or which is likely to cause, fear or alarm to the public, or to any section of the commit an offence against the State or against the public tranquility." 
According to the Assistance Association for Political Prisoners (AAPP), as of March 4 a total of 1,507 people had been arrested, charged or sentenced nationwide since the military takeover on February 1.