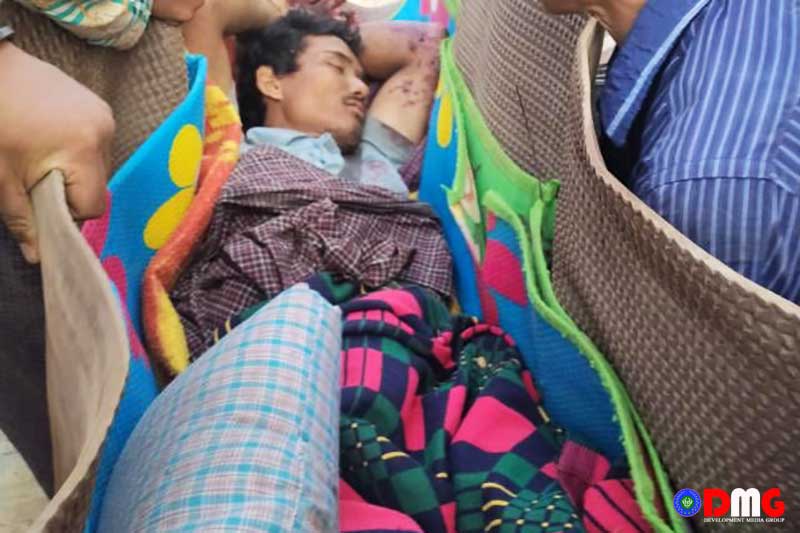 DMG Newsrooms
8 March 2021, Myebon 
A resident of Sanyin village in Arakan State's Myebon Township was severely injured when an explosive remnant of war (ERW) detonated near the village on Monday afternoon, family members said.  
U Nyi Pu Chay was on his way to a local mountain known as Phayargyi, about 5 miles from the village, to saw wood for a boat-building project when he encountered the ERW. It was at the mountain that the explosion occurred and the 27-year-old's leg was injured, said U Than Aung, a relative of the victim. 
"Six people went to cut the wood. He came upon the ERW while he was searching for logs in the forest. His right leg was cut. We are now sending him to the hospital," he told DMG. 
U Nyi Pu Chay was being taken to Kan Htaung Gyi Hospital because his injury was severe, U Than Aung said, adding that he would be sent to another hospital depending on his condition over the coming days.  
There have been a number of civilian casualties from landmines and ERWs in parts of Arakan State where the Tatmadaw and the Arakan Army (AA) have clashed in recent years. 
A 42-year old man from Thayetpin Chaung village in Ann Township lost one of his legs after stepping on a landmine while foraging for vegetables outside the village on February 17.