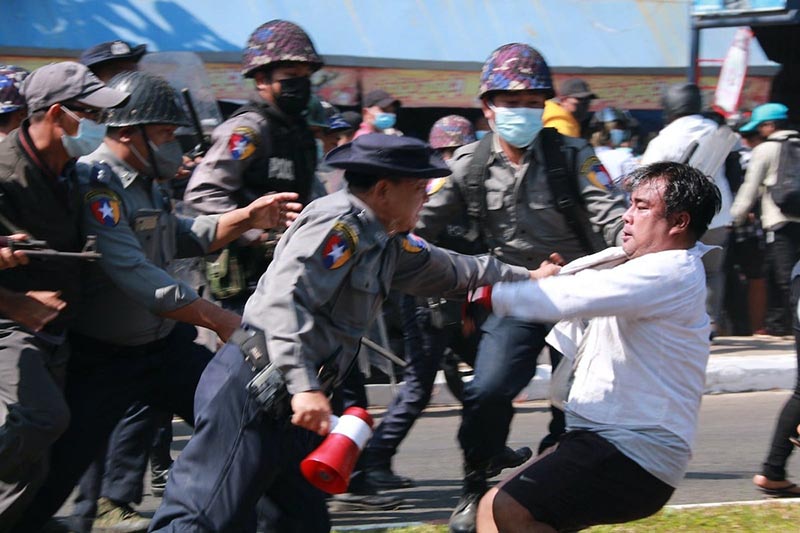 DMG Newsroom
7 April 2021, Sittwe 
The death toll during the so-called Spring Revolution in Myanmar reached 581 on April 6, and the number of people detained since the February 1 military coup totalled 2,750, according to the Assistance Association for Political Prisoners (AAPP). 
The AAPP said another 463 people have gone into hiding after warrants were issued for their arrest over their participation in the anti-regime movement. 
In some of the latest violence perpetrated by security forces, police and soldiers in Mandalay dispersed a protest column made up of healthcare personnel on April 6, with one participant sustaining a gunshot wound and four doctors arrested. 
An AAPP official said: "A military's purpose is to protect the lives and prosperity of the people. Now, they are killing innocent civilians. So, we do not want to use the term 'the military' for them. They look like a terrorist armed group."  
In Kyaukme town, Shan State, security forces recently dispersed a sit-in protest by firing tear gas and smoke bombs into the crowd, while in Moekaung town, Kachin State, they opened fire on protesters, the AAPP said. 
Two deaths attributed to security forces' gunfire were reported in Sagaing Region's Pilebu town on April 6.  
Journalist U Myint Kyaw this week told DMG that the number of members of the media detained or charged since the coup had reached 53. 
Last month, the junta revoked the licences of five independent media outlets: Myanmar Now, Khit Thit Media, Democratic Voice of Burma (DVB), Mizzima, and 7 Day News.