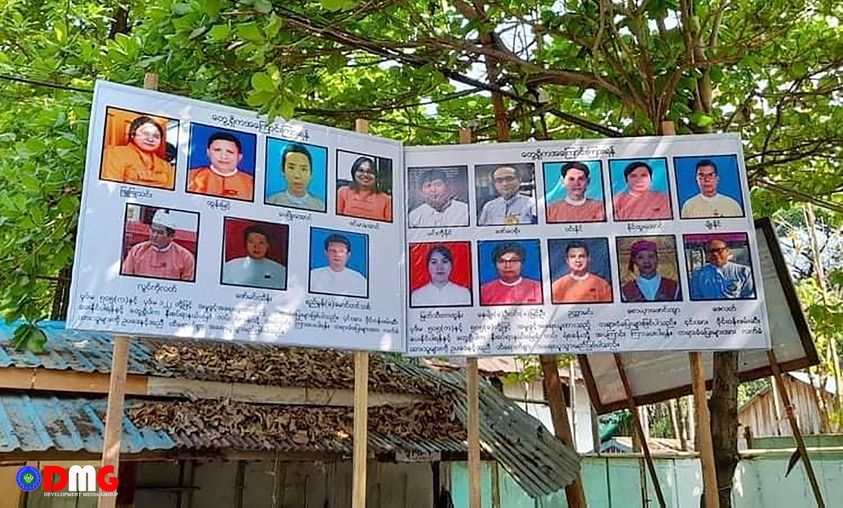 DMG Newsroom
29 April 2021, Kyaukphyu

The Arakan State Administration Council, the state-level governing body of Myanmar's military junta, has erected signboards in Kyaukphyu, Taungup and Ann townships asking the public to inform authorities if they see or know the whereabouts of 17 individuals including veteran democracy activist U Min Ko Naing.

The signboards, which include photos of those wanted, were set up recently near the central market, watch tower and Strand Road in Kyaukphyu, near the central police station in Taungup, and at an intersection in Ann, according to local residents.

"It is a threat to ordinary citizens that they [the military regime] can arrest them anytime, as even celebrities have to go into hiding. It is an act to intimidate local residents. They also displayed their photos to terrify the people," said Ann resident Ko Myo Lwin.

In addition to the prominent pro-democracy leader U Min Ko Naing, the signboards single out ministers of the National Unity Government (NUG) U Zaw Wai Soe, Daw Zin Mar Aung, U Lwin Ko Latt and U Yee Mon, as well as other prominent activists. The NUG was formed on April 16 by the Committee Representing Pyidaungsu Hluttaw (CRPH), a body made up of lawmakers who were elected in Myanmar's 2020 general election.

The signboards say the listed individuals are fugitives charged with sedition under Section 505(a) and Section 122 of the Penal Code, the latter covering treason. The public is asked to inform the nearest police station or military unit upon seeing them. It also warns of harsh legal action against anyone who harbours the accused.

"This is political contesting. This is a contest between the military council and supporters of the CRPH. There is only some resistance to the military in Arakan State compared with other parts of the country. So, issuing arrest warrants with signboards in such places, in my view, is done to achieve political advantage," said U Than Hla, director of the Arakan CSOs Network.

The Myanmar Police Force on February 13 issued arrest warrants for several individuals including U Min Ko Naing, saying the accused had made and circulated statements on social media intending to undermine peace and order.