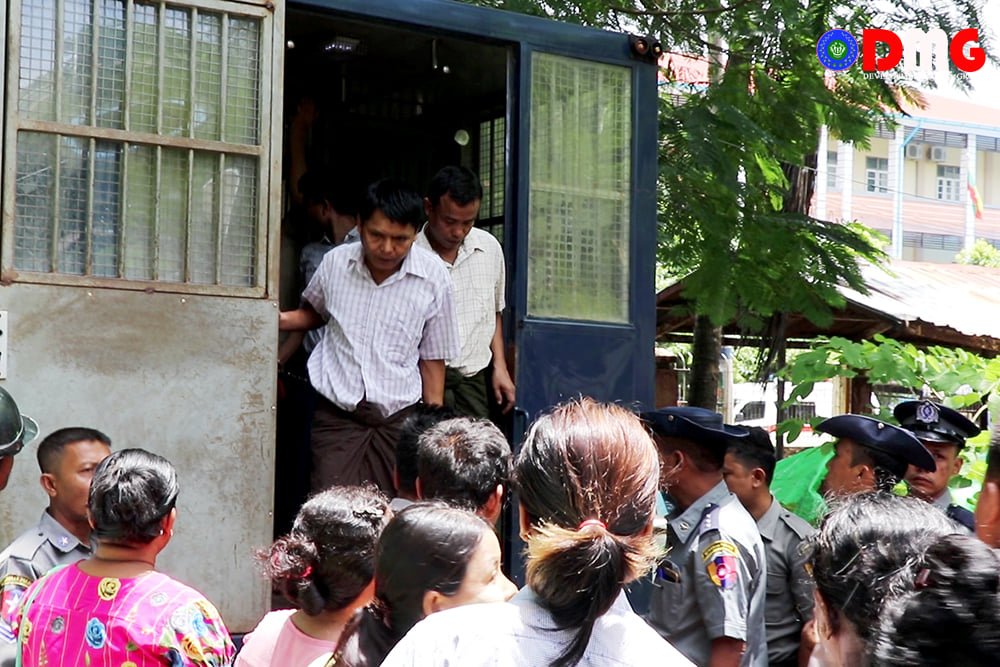 DMG Newsroom
28 April 2021, Sittwe 
Lawsuits filed under the Counter-Terrorism Law against people for their alleged ties to the Arakan Army (AA) can be dropped only with the approval of Myanmar's Anti-Terrorism Central Committee, the spokesman of Arakan State's military governing body has said. 
It requires the approval of the Anti-Terrorism Central Committee to prosecute someone under the Counter-Terrorism Law, and the committee's OK is likewise needed to drop such lawsuits, said U Oo Hla Thein, who is also the military-appointed attorney general of Arakan State. 
"According to the procedures, the committee's proposal is required to drop the lawsuit," he said during a press conference on April 26. 
U Oo Hla Thein said he has negotiated with concerned authorities to seek approval from the Anti-Terrorism Central Committee to drop multiple cases pending before the courts in Arakan State. 
The country's Anti-Terrorism Central Committee declared the AA and its political wing, the United League of Arakan (ULA), to be terrorist organisations on March 23, 2020. The military junta's national governing body, the State Administration Council, removed the ULA/AA from the list of terrorist organisations on March 11 of this year. 
The delisting last month raised expectations that those in Arakan State who were charged under the Counter-Terrorism Law on suspicion of having links to the AA would be released and see their cases dropped.  
"We family members are disheartened as things have not happened as we expected. I hope those who approved to charge the Lekka villagers including my husband will drop the cases as they all are innocent," said Daw Thein Mayay, the wife of one of several residents of Lekka village detained in April 2019 and still behind bars. 
Lawyer Daw May Thet Khine of Thazin Legal Institute called on authorities to speed up trial proceedings even if they are not willing to drop the cases. 
"Most of the cases are in limbo. Even if they don't drop the cases, I want them to organise speedy trials. Because while the relatives of the accused suffer [as a result of lengthy trials], we lawyers are left at a loss," said Daw May Thet Khine.  
A total of 362 people were arrested on suspicion of having ties to the AA during two years of fighting with the Tatmadaw in Arakan State that spanned approximately December 2018 to November 2020, according to Thazin Legal Institute. 
Seventy-eight of them — one from Mrauk-U District, four from Kyaukphyu District, one from Maungdaw District, 67 from Sittwe District and five from Thandwe District — have so far been released due to lack of evidence.