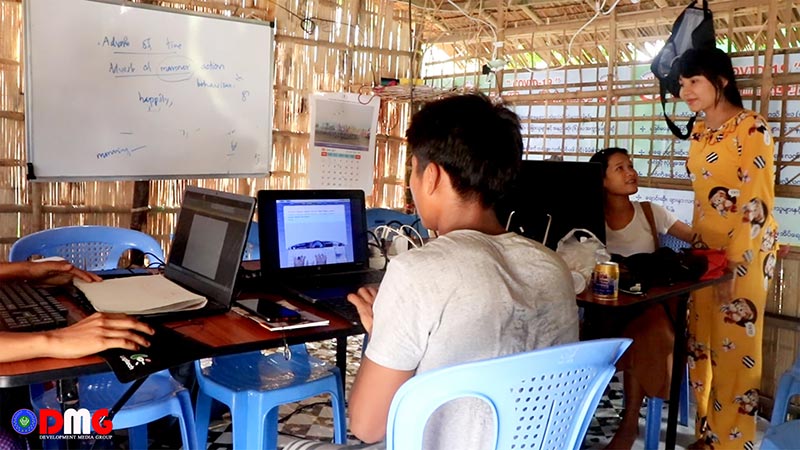 DMG Newsroom
7 June 2021, Sittwe 
With growing recognition that higher-level skills must be built around the information age and technologies of the 21st century, civil society organisations and volunteer groups in Arakan State are providing training and courses to Arakanese youths on topics such as computer literacy, English-language, human and women's rights, and federalism. 
In Sittwe, political science and basic healthcare subjects are included in one training, which is provided free of charge by the United Arakan Youths Union, responsible people said. 
"We've mainly provided computer, English-language and political science courses. We provided a one-month basic healthcare course before," said Ko Nay Win, spokesperson for the United Arakan Youths Union.  
A United Arakan Youths Union-led capacity-building training programme has been given for youths in Minbya and Sittwe, with more than 60 trainees attending the courses. 
Moreover, the Mrauk-U Youth Association (MUYA) and Public Center are providing computer and music courses for youths in Mrauk-U town, according to the responsible people. 
"Youths are lost and don't know what kind of courses they should attend. Some training courses for computer and music subjects are expensive. So, we've provided training courses free of charge for them," said Ma Khaing Hnin Oo, a member of MUYA's library committee. 
"It can be said that giving training to youths is the goal of MUYA because we have an aim to support them with training courses that they need. We're acting in line with our goal." 
Ko Tun Naing Soe, who is attending a training course provided by the United Arakan Youths Union in Sittwe, said he came to the training because it provides basic skills for youths. 
"Additionally, attending this training gives me progress as I know about the linkage between the country and the people," he said. 
The Mrata Zaung Foundation has provided computer courses in Kyaukphyu and Mrauk-U townships, and also plans to open eight more computer training programmes in Ann, Myebon and Pauktaw townships, said a responsible person.  
Other youth development efforts include the creation of mobile libraries and arrangements that allow for lending books free of charge in Sittwe and Myebon towns to promote reading skills.