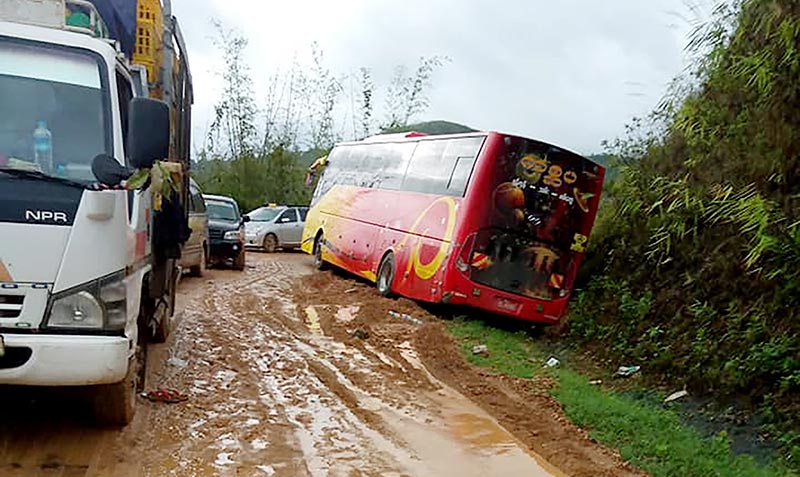 DMG Newsroom
12 June 2021, Sittwe 
Skidding vehicles and traffic congestion are frequent occurrences during the monsoon season along the Minbu-Ann road, which is mostly used for transporting goods overland from other parts of Myanmar to Arakan State, according to drivers. 
They say they have faced this problem every year because roads are not repaired ahead of the annual monsoon season. 
"It occurs every monsoon season," said Ko Win Hlaing, who frequents the Mandalay-Sittwe route. "Traffic congestion occurs on almost all roads in Arakan State. Because roads are repaired in the rainy season by using soil, vehicles skid due to mud when the soil mixes with rainwater. They should have repaired roads in summer, but now, they repair roads in the rainy season without using stones under the soil layer, and so the vehicles slip during the rains." 
As the Minbu-Ann road is one-way, if two vehicles meet heading in opposite directions, one has to give space by pulling off to the shoulder for the other to pass. This picks up roadside dirt on tire treads, exacerbating the skidding problems, said U Maung Win Chay, head of Kay Thi Oo bus terminal. 
"It has to set aside a three-feet space on both sides of bituminous and concrete roads. So, when vehicles have to give way to others by driving aside, their wheels are covered with mud and carry it on the road. So, cars skid," he said.
U Maung Win Chay said he assumed that because construction works are carried out depending on securing a budget, work preparation is weak.   
Demonstrative of the problem, more than 100 cars including trucks, passenger vehicles and other automotives were stuck in traffic congestion as a vehicle skidded between Nga Pyal and Taung Saut villages in Ann Township on Saturday. 
"The skidded vehicle couldn't drive forward. As the road is a one-way road, traffic congestion has occurred since yesterday. Now, some vehicles can pass through as traffic police have helped the drivers," said U Kyaw Kyaw Lwin, who drives one such vehicle. 
U Tun Aung Kyaw, an engineer-in-charge of the Ann Township Road and Bridge Department, said currently, vehicles that drive to Minbu can pass through and it has also been carried out for other vehicles. 
DMG phoned him seeking comment on how to deal with annual traffic congestion, and he replied that he would answer at a later date as he was busy with the current traffic congestion.