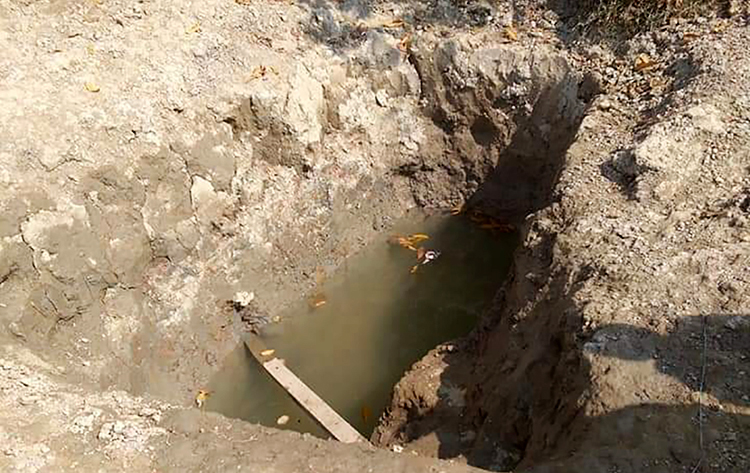 Khaing Roe La / DMG
March 1, Sittwe
The IDP camp in Paethadu village in Rathedaung Township is facing an immediate water shortage according to officials from the camp.
There is only one lake in the village. At the moment, the amount water in the lake is decreasing. Each family of IDPs gets four pots of water as a quota per day, officials from the camp said.
"The amount of water they get for a day is just enough for drinking and people are facing difficulties for domestic use," said U Tha Kyaw, head of the Paethadu IDP camp.
"Currently, we have to take baths in turns from a well near the camp. But, the amount of water in the well is not too good. We have another pond with salt water. We sometimes take baths at that pond. But the water amount in the pond is getting less as well now. We are facing a water shortage now because we do not dare going back to our village," U Tha Kyaw told the DMG.
There are 183 people in the camp from 32 households in Bawdikaing village, Rathedaung Township. They were displaced due to the armed conflict that occurred in their village in late December 2018.
If a lake was established near Paethadu village, the current water shortage problems could be solved for the displaced residents, said U Shwe Baw Sein, chairperson of Rakhine Ethnic Congress (REC).
"There's a well near the camp. We can get enough water if we expand the well to a lake. But, we need money to widen the well," he said.
IDPs from Phakywel camp in Tawphyachaung, Ponnagyun Township, are also facing insufficient water supplies according to the REC, the group providing relief for IDPs.
There are more than 10,000 IDPs in Rakhine State following the conflict between Myanmar military force and the Arakan Army, according to figures from relief groups.