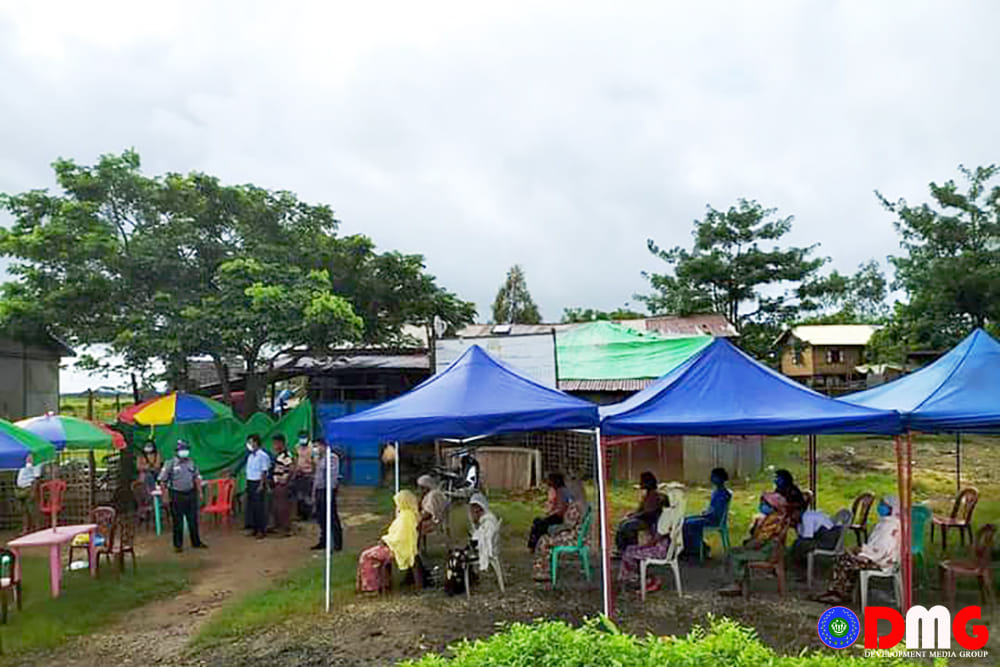 DMG Newsroom
11 September 2021, Sittwe 
A campaign to vaccinate internally displaced people (IDPs) against Covid-19 in Arakan State has concluded in Ann and Pauktaw townships, according to the Arakan State Department of Public Health. 
"All [eligible] IDPs from Ann and Pauktaw townships have already been [vaccinated]," said Dr. Soe Win Paing, assistant director of the Arakan State Department of Public Health.  
A total of 25,000 vaccines have been provided to IDPs, out of 50,000 IDPs — both Muslim and Arakanese — targeted across 10 Arakan State townships in an initial push to inoculate vulnerable populations with the Chinese-made Sinovac vaccine. 
"We've continued injecting in the remaining eight townships [with IDPs] by classifying three age groups — over 65, over 45 and 18 years [and over]," he told DMG. "We've cooperated with the township health departments and injected as many as possible depending on the quota of vaccines they received." 
Under Myanmar's military regime, the vaccination campaign is being rolled out on a tiered eligibility basis, starting with those over 65 years of age, who are deemed more vulnerable to the ravages of the virus, as well as monks, bank employees, civil servants and volunteers helping to combat Covid-19. 
Of 1.6 million people slated to be vaccinated in Arakan State, about 300,000 have received the jab so far, with the rest depending on vaccine availability. 
Although the number of confirmed Covid-19 cases has declined in Arakan State, the disease remains a concern, health officials have noted, warning that now is not the time to get complacent when it comes to following virus-related instructions. 
Dr. Khin Khin Gyi, director of the Ministry of Health's Central Infectious Diseases Control Division, told DMG that health authorities have enhanced Covid-19 prevention and treatment works in an effort to bring the third wave under control quickly. 
"The number of confirmed cases has declined currently, but it will take time to decrease much. So, we've carried out tests widely within these days," she said. 
Only 37 people died during the first and second waves of Covid-19 in Arakan State, but during the third wave, fatalities had reached 423 as of September 10, according to data released by the military council. The number of confirmed cases statewide was 4,525.