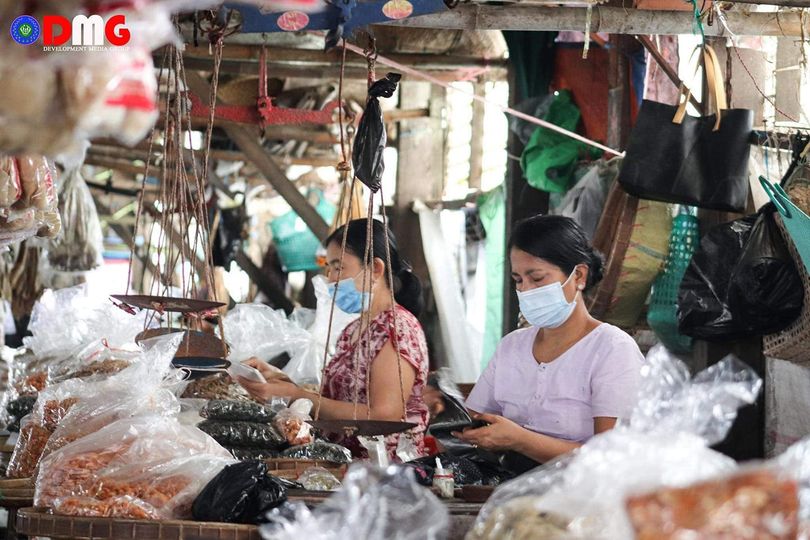 DMG Newsroom
13 September 2021, Sittwe 
The prices of basic food items such as rice, cooking oil, iodised salt and dried chili, and other consumer goods continue to rise, according to shopkeepers in Arakan State. 
The price of a bag of rice has risen from K47,000 ($26.30) to K52,000 ($29.10), while the price of one viss of seasoning powder has soared from K3,500 to K6,500. One viss of cooking oil climbed from K4,000 to K5,500, said U San Lin Aung, a grocer in Mrauk-U. 
U Maung Than Hlaing, a resident and self-described member of the grassroots in the Arakan State capital Sittwe, said the pandemic was causing a shortage of jobs. 
"Due to the Covid-19 pandemic, the grassroots are facing more difficulties. Wealthy business owners are also shutting down their businesses, which puts us in a lot of trouble. We rely on food supplies provided by local charitable organisations," he said. 
The price of construction materials has also continued to rise, according to Daw Khin Saw Myint, owner of a construction materials shop in Myebon Township, Arakan State. 
"Construction materials have risen by three to four percent. A construction material supplier also called me to say that the price of fluid concrete would go up again. Tin also doubled in price," she said. 
Daw Khin Saw Myint added that sales of construction materials were declining amid difficulties in remittances. 
"When we transfer money, we have to wait in line at the banks. If you transfer money at the bank today, you have to withdraw it the next morning. That kind of thing is not convenient for us," she said. 
In addition to the Covid-19 pandemic, the February 1 military coup in Myanmar and subsequent political unrest has been blamed for rising prices in numerous sectors ranging from transportation and pharmaceuticals to home appliances and gold.