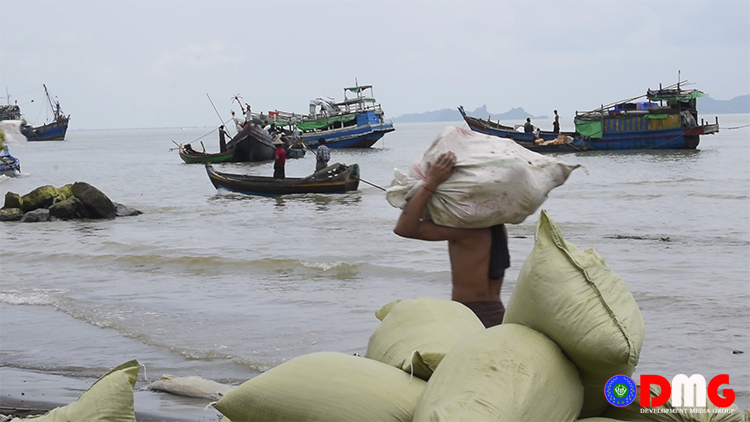 Kyaw Thu Htay | DMG
June 8, Sittwe 

The sinking of three boats in Arakan State in the first week of July, leaving several people dead and missing, has prompted renewed calls for improved water transport safety. 

On July 7, a fishing boat sank in Pauktaw Township and two people remain missing. On the same day, a passenger boat running from Rambree to Kyaukphyu sank and one person died and another was injured. Another passenger boat sank on July 5 in Taungoke Township and one person died and two people are missing. 

Water transport is the main form of transportation in Arakan State, CSOs responded to the accidents by calling on the government to ensure boats have enough life jackets and are not overloaded with passengers. 

"They need to reduce the number of passengers on the boats during the rainy season. They also need to practice precautionary measures such as how to store the life jackets on boats. The government is responsible for spreading awareness to the public about it," said U Khaing Kaung San, director of Wan Lark Foundation. 

Shortly after the National League for Democracy government took office in March 2016, a boat carrying students back from a school in Poe Shwee Pyin village, Ponnagyun Township, sank, seven students died. After the accident, the state government instructed boat operators to store life jackets in the boats. 

In spite of some boats following safety regulations, DMG found that some boat operators ignored boating regulations, some boat owners would overload their boats with more cargo than their vessels could hold.
Arakan State Municipal Affairs Minister U Win Myint said that the government instructed the boat operators not to undertake trips during bad weather, to store the life jackets for passengers in the boats and to not overload their vessels. 
"If they don't follow the instructions, they will face action under the law. The public need to follow the information announcements," he said.
Arakan state has many rivers, and many transportation routes are rivers and other waterways locals rely on to travel from one village to another.