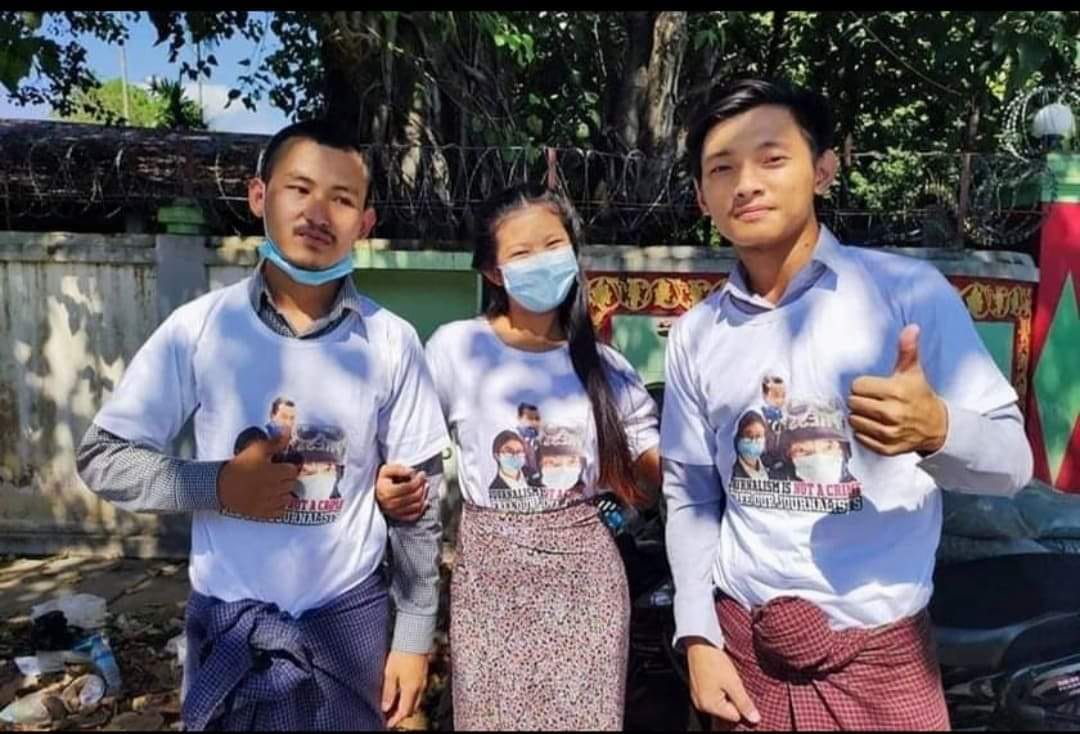 DMG Newsroom
22 October 2021, Sittwe 
Out of 52 journalists arrested across Myanmar by the State Administration Council (SAC), 17 have been released and 35 remain in detention, according to Myanmar Press Freedom In-Depth, a group that has compiled a list of detained reporters. 
Among the released journalists were three from Democratic Voice of Burma (DVB); Mizzima cofounder Ma Thin Thin Aung and an office staffer at the media group, multiple freelance reporters, and journalists from other news outlets in a variety of locations, ranging from the Kachin State capital Myitkyina to Tachilek in Shan State; Myanmar's largest city Yangon, and elsewhere. 
A freelance journalist with Mizzima, who spoke on condition of anonymity, said he welcomed the release of the detained journalists, while adding that all of the remaining journalists behind bars should also be released. 
"The journalists were not able to go outside and report freely to the public because the military is arresting media professionals. We have to cover the news secretly as we are barred from going anywhere freely. It is not convenient for us to go to government organisations to cover news and report to the public. We are concerned for our safety," he added. 
The 17 journalists were released from various prisons across Myanmar as part of a broader amnesty on October 19 and 20. 
The 35 still-detained journalists are from local news outlets such as Frontier Myanmar, Mizzima, The Voice, Kamayut Media, Thingangyun Post, Kanbawza Times, Thanlwin Thway Chin, Ayeyarwady Times and Akonthi, among others, according to Myanmar Press Freedom In-Depth. 
The SAC announced on October 18 that more than 5,600 people arrested or rendered fugitives of the law for their anti-regime activities would be granted amnesty. However, there have been reports that some were rearrested not long after being released from prison. 
"I hope all journalists will be released soon," said U Myint Kyaw, a former member of the Myanmar Press Council. "There are many journalists in Yangon and other areas who are still detained. I want to urge the release of all those detained in connection with the news, not just those who have been repeatedly named in the media." 
He added that the arrest and prosecution of journalists was a matter of grave concern not only for those already targeted, but for all people who currently work in the beleaguered news industry. 
Many of the detained journalists have reportedly been charged under Section 505(a) of the Penal Code and/or Section 17(1) of the Unlawful Associations Act. 
Myanmar Press Freedom In-Depth has called for the immediate and unconditional release of all unjustly detained journalists, demanding that media outlets be allowed to operate freely and without fear of government retribution.