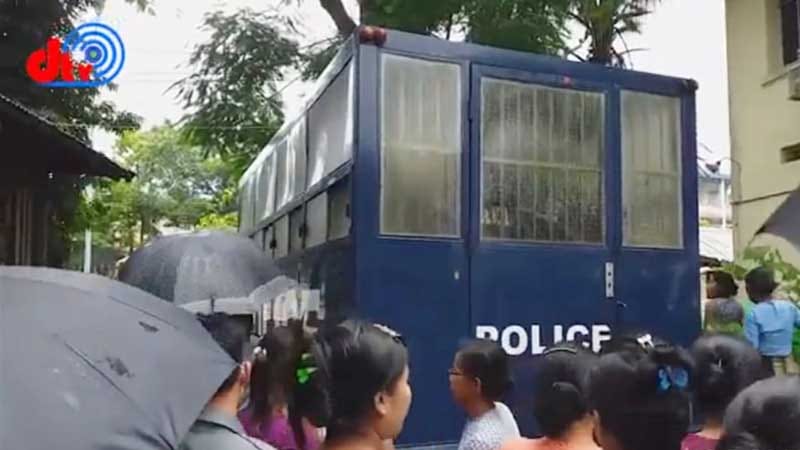 DMG Newsroom
30 December 2021, Mrauk-U

A court in Mrauk-U Township has again delayed an expected verdict in the case of more than 20 residents of Lekka village who have been charged under the Counter-Terrorism Law, marking the seventh time that a ruling in the trial has been deferred.

The verdict is now scheduled for the next court hearing on January 13.

U Aung Sit Min, a lawyer from Min Htee Law Firm involved in the case, said the court had postponed its ruling as it waited to see whether the Lekka case might instead be rescinded.

"The court delayed the order because the government has said such cases will be revoked. So, the court waits and sees the situation," he said.

The Lekka villagers were arrested in April 2019 on suspicion of having ties to the Arakan Army. They have since been facing multiple charges under the Counter-Terrorism Law, as well as under Section 21(a) of the Arms Act.

Daw Nyo Aye, chair of the Rakhine Women Network, said the case of Lekka villagers should be ruled on definitively, one way or the other.

"Regarding their case, revoking [the charges] or ordering punishment should be done. Delaying their case causes suffering for them," she said.

Myanmar's military regime removed the United League of Arakan/Arakan Army (ULA/AA) from its list of terrorist groups on March 11 of this year. The ULA/AA had been designated terrorist groups and unlawful associations under the National League for Democracy (NLD) government, on March 23, 2020.

The Lekka villagers were arrested before the AA was declared a terrorist group, and have remained on trial and behind bars throughout the ethnic armed group's stint on the terrorism list and in the months following the de-listing in March 2021

U Kyaw Lwin, a former Arakan State lawmaker for Kyaukphyu Township, called for leniency in the Lekka villagers' case and others like it, in which individuals were arrested on suspicion of illegal AA ties.

"I'd like to request to release them all as soon as possible … because this is the time to build mutual trust between the two armed groups," he said.

More than 200 people were arrested on suspicion of illegal AA affiliations during some two years of armed conflict between the military and the Arakan Army in Arakan State from 2018-20, according to organisations tracking these cases. The junta regime has since revoked charges and released 102 of them.