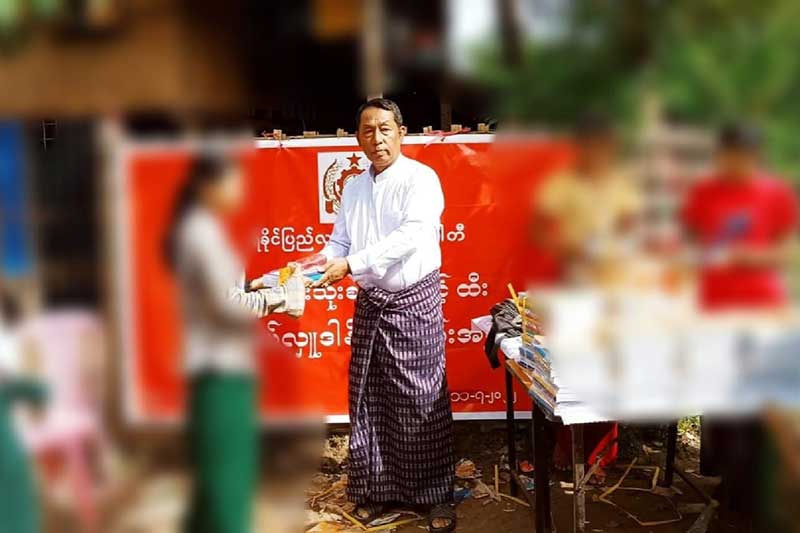 DMG Newsroom
8 August 2022, Sittwe

The Arakan Liberation Party (ALP) has detained a Sittwe resident on suspicion of having been involved in the detention of Lieutenant Colonel Khaing Paw Lin, an ALP executive committee member, and is planning to arrest other related people, said Lt-Col Khaing Kyaw Soe, the ALP information officer.

The ALP arrested Ko Aye Ko and Kanar Chay aka Thein Hsan from Sittwe's Setyonsu ward at around 1 p.m. on August 7, but Kanar Chay managed to escape, he said.

"We will arrest those who are suspected of being involved in the Arakan Army's detention of Lieutenant Colonel Khaing Paw Lin. We are investigating their whereabouts and are ready to arrest them," he added.

Lieutenant Colonel Khaing Paw Lin and a Grade 8 student were taken from their home by members of the United League of Arakan/Arakan Army (ULA/AA) in the Arakan State capital Sittwe on August 2, the ALP said in a statement.

If Lieutenant Colonel Khaing Paw Lin and the student are released, the detained Sittwe man will be released, Lt-Col Khaing Kyaw Soe said.

"We also don't want the situation to get worse. This is because [the ALP] is a party working for the people of Arakan, so if a framework for national unity is laid down and discussed, it can be done. If Lt-Colonel Khaing Paw Lin is released, we will present it to the party leaders and discuss it," he added.

According to Arakan Princess Media, ALP members and junta soldiers arrested two residents including a 100-household head in Sittwe's Setyonsu ward on August 2 and 3, following the AA's detention of Lieutenant Colonel Khaing Paw Lin. The ALP denied allegations that it had arrested two Sittwe residents.

The AA and its political wing, the ULA, have arrested at least 10 members of the ALP including Khaing Aung Thein Htay, an auxiliary central committee member, who have not been released to date, according to the ALP.

DMG was unable to obtain comment from U Khaing Thukha, spokesman for the Arakan Army, regarding the latest tensions to arise in the relationship between the two Arakanese ethnic armed groups.

The ALP was formed in 1968 with the help of the Karen National Union (KNU), and is considered a veteran armed organisation in Arakan State that has often stood at odds with successive Myanmar governments. The ALP signed the Nationwide Ceasefire Agreement (NCA) with a previous, quasi-civilian government in 2015, something the Arakan Army has not done.