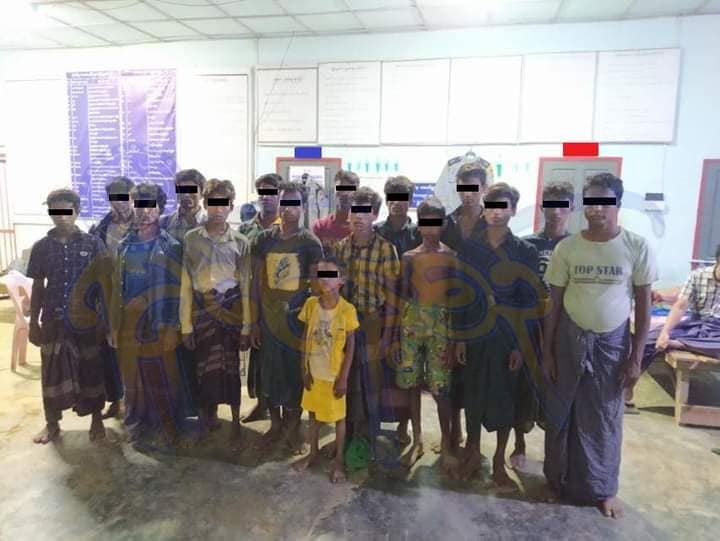 DMG Newsroom
3 September 2022, Gwa 
Nineteen Muslims were arrested near Dauntchaung village in Arakan State's Gwa Township at around 11 p.m. on September 2, according to the township police station. 
"They were heading to Yangon from Mrauk-U, Kyauktaw and Sittwe," said Police Inspector Zaw Zaw Oo from the Gwa Township police station. 
"The vehicle was coming from Ann Township and the Muslims were arrested when the police intercepted the vehicle for inspection. When police interrogated the Muslims, they admitted that there were more people and police found more Muslims hiding in the forest," the police officer added. 
The detained Muslims include 16 men and three women. They reportedly had to pay K3.5 million to human traffickers to get them to Yangon, and an additional K7.5 million for a second leg to Malaysia. 
The Muslims are currently being held at the Gwa Township police station and are facing charges under Myanmar's Immigration Act. 
Twenty-two Muslims were arrested in the jungle in Gwa Township on August 2 and were charged under the Immigration Act, and 53 Muslims from Maungdaw en route to Yangon were arrested in Arakan State's Thandwe Township on August 23 and 26. 
In December, 33 Muslims who were arrested in Taungup Township, Arakan State, were sentenced to one year in prison under the Immigration Act.  
Most Muslims in Arakan State are denied freedom of movement. Due to travel restrictions imposed by successive governments, they cannot travel freely within or outside of Arakan State. Many nonetheless undertake perilous journeys by boat or other means, seeking employment opportunities and a chance at a better life beyond Myanmar's borders.