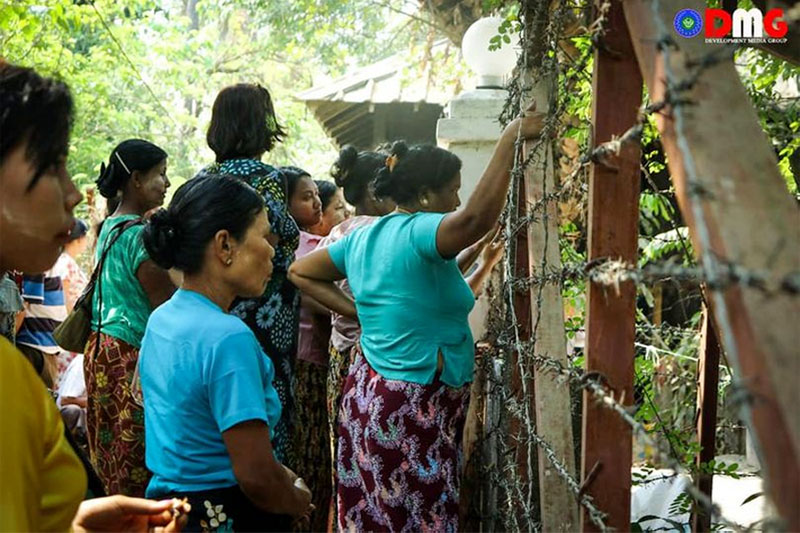 DMG Newsroom
23 January 2023, Ponnagyun
Two residents of Ai Tin Village in Arakan State's Ponnagyun Township, who were given three years in prison under Myanmar's Counter-Terrorism Law for allegedly having ties to the Arakan Army (AA), have been released after serving their time, according to family members.
Ko Maung Saw Aye was released from Sittwe Prison on January 10, and Ko Nay Lin Htay was released on Monday.
"I am happy that my son is back at home," said Daw Aung Than Nu, the mother of Ko Maung Saw Aye. "I don't want to talk about the past."
The pair were arrested at the Kyauktan checkpoint on the outskirts of Sittwe as they made their way back to Ai Tin Village from the Arakan State capital on March 5, 2020.
Captain Aung Phyo Myint from the No. 908 Engineering Battalion based in Sittwe filed a lawsuit against the two men under Sections 50(j) and 52(a) of the Counter-Terrorism Law.
They were acquitted of the Section 50(j) charge, but were handed three years in prison each for violating Section 52(a) of Counter-Terrorism Law on July 22, 2022.
A family member of Ko Nay Lin Htay told DMG: "We don't want to say anything. We just take it, as we suffer in this life because of the bad things we did in a previous life. We want all the detainees to be released, so they can return to their families."
More than 200 people were charged on suspicion of having ties to the Arakan Army during past fighting between the Myanmar military and AA from late 2018 to November 2020, according to local civil society organisations.
Five residents from Ponnagyun Township's Kyaukseik Village who were sentenced to three years in prison under Sections 50(j) and 52(a) of Counter-Terrorism Law will have served their time around the end of this month, according to family members.
"We have heard that they will be released this month," said Daw Ni Ni Aye, the mother of one of the five, Ko Nyi Nyi Aung. "When the judge handed down the ruling, he said the time spent in detention would be deducted from the prison sentence. If so, he should be released later this month."
The Myanmar military and the Arakan Army engaged in fresh fighting in August of last year, and it has been nearly two months since the two sides observed an informal ceasefire.
According to a DMG tally, some 50 people were charged under the Unlawful Associations Act and Penal Code for allegedly having ties to the AA during the four months of the latest fighting.