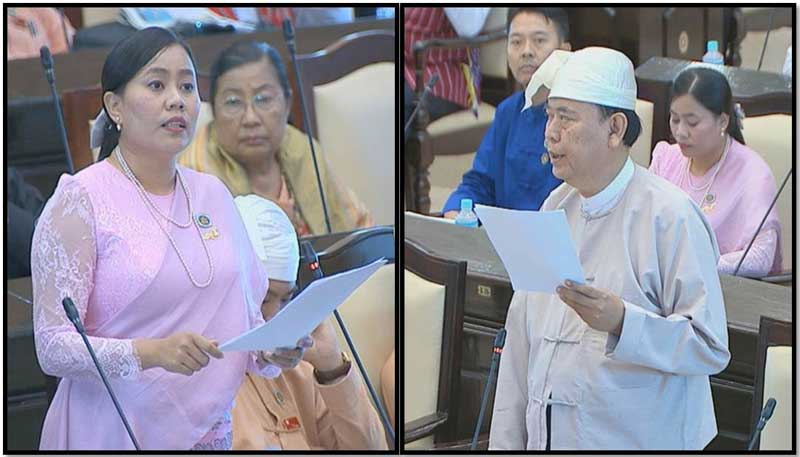 Win Nyunt | DMG
7 September, Sittwe
 
Amyotha Hluttaw session on 5 September rejected the proposal urging the union government to draw up low-interest education loans for students who pursue their education in government universities including vocational training schools.

The proposal, which was put forward by Daw Htoot May, Amyotha Hluttaw representative of Arakan State  constituency 11,  received 19 votes in favour, 125 against and 22 abstentions, the parliament announced.

Daw Htoot May presented three options for furnishing student loans: a government's fund raised to disburse low interest loans, a state owned bank's loan, or a private bank's loan.

The majority of the lawmakers suggested that it was not suitable now to implement the motion and the government should increase its current stipend.

"We need to reform the education system first. When our education and economic systems have significantly improved, we can start implementing education loans," said U Maung Maung Lat, Amyotha Hluttaw representative of Sagaing Region constituency 9.

Most MPs said that undesirable problems may occur if students cannot repay their debts after they were granted education loans.

"If a lender disburses loans without any guarantees, private or state-owned banks might encounter problems. So, it would be better to offer stipends to more students and to raise the amount of stipends," said U Kyaw Thaung of Amyotha Hluttaw representative of Sagaing Region constituency 9.

U Win Maw Tun, deputy minister for Education, said that state funds have been annually earmarked for providing financial aid to students who face difficulties pursuing their studies in universities, and the motion should be recorded in the Amyotha Hluttaw.

"There is no perfect system.  We have to learn lessons as we continue to improve the overall education system," Daw Htoot May said.

The Department of Higher Education was allocated over MMK 14.97 billion for allowance in 2016-17 academic year, it 30 percent for stipends and the remaining amount was given back to the government.