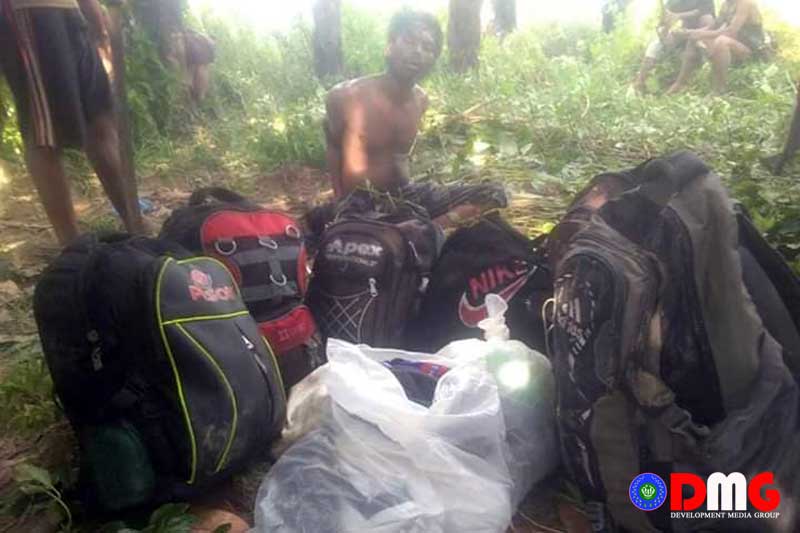 Cha Lu Aung | DMG
27 September, Sittwe
 
Members of the Border Guard Force have arrested a Muslim suspect near Kuntheepin Village, Nantthataung Village-tract in the northern part of Maungdaw Township, Arakan State, said U Maung Sein Tun, the village administrator of Thinbawhla Village.

Some villagers from Thinbawhla and Thayargone Villages saw as many as 14 Muslim suspects while they were searching for crabs and fish on 22 September and informed the border guard force's outpost about the news. The police conducted a clearance operation in the area and captured a Muslim suspect.

"The Border Guard Force nabbed a suspicious Bengali along with seven backpacks during the clearance operation. But they didn't find the remaining suspects," U Maung Sein Tun added.

Upon interrogation, the suspect confessed that he fled to Bangladesh following the 2017 violence and took refuge at Kutupalong Refugee Camp for two years. A group of about 10 Muslims including the suspect crossed over the border fence between border posts 34 and 35 at around 8 p.m. on 21 September and stayed hidden on a hill near Letphwekya Village, the village administrator said.

The suspect identified as Yu Thoke (alias) Chotu Arlong, 21 years old was arrested with seven haversacks, two machetes, and one mobile phone with a Bangladeshi SIM card and a border guard cap. The suspect is being questioned by the local police, according to the village administrator.

Many policemen were killed in the coordinated attacks by ARSA terrorists in Maungdaw Region in 2017. In response, the Tatmadaw launched clearance operations in Arakan State, forcing more than 700,000 Muslims to flee to Bangladesh.