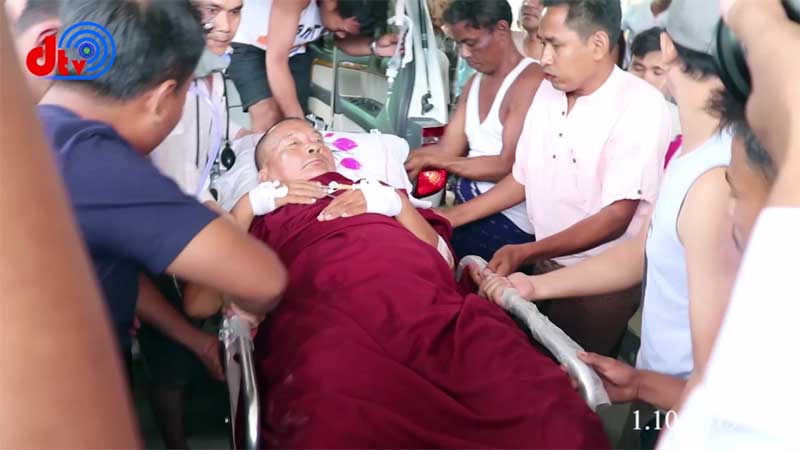 Aung Htein | DMG
October 1, Kyauktaw

Gunfire from a naval vessel injured five people, including a venerable monk in Miwa village, Kyauktaw Township, Arakan State on October 1, locals said.

The Tatmadaw and Arakan Army (AA) had a fight on September 29 near Miwa village, and two villagers were reportedly hit by stray bullets in the village. Because of that accident, villagers fled their homes to the village's monastery. But stray bullets landed in the monastery compound and injured a head monk of the monastery, one novice and three villagers.

"As we were shot, some of the villagers got injured. That's why, we were afraid and moved to the monastery. The school teachers also stayed there because the monastery runs a monastic school. The head monk got hit by a bullet on the staircase while walking downstairs. The naval vessel shot us from the river at about 1 am," an anonymous villager said.

When DMG asked Colonel Win Zaw Oo, head of the Western Command, about the shooting, he said that the villagers got hit by the bullets between Tatmadaw and AA's fights.

"Why did AA shoot us from Miwa village? Why did the villagers accept the AA group in their Miwa village? If the villagers don't want this kind of situation, they should tell AA not to shoot from the village," Colonel Win Zaw Oo said.

"They [the villagers] are afraid to tell to AA and support whatever AA needs. I don't know which group shot the villagers. As long as they let AA stay in the village, the same situation will keep going on," he added.

The DMG tried to contact the AA about whether they had a fight with Tatmadaw near Miwa village but didn't respond.

According to the Miwa villagers, no fighting occurred in their village on October 1, and just the soldiers from the naval vessel came to the shore and shot them. 

The injured people were submitted to Kyauktaw hospital to have medical treatment but, later the head monk and novice were brought to Sittwe hospital because their injuries were more severe than other three villagers.

"Sayardaw's [the head monk] injury is quite big. The bullet shell hit his right chest. He is now having emergency treatment at Kyauktaw hospital. The young monk got hit by a bullet on his head and he is unconscious," U Maung Kyaw Nyunt, administrator of Miwa village said.

The other three villages who were injured are San Win Hlaing, 14, Taung Bar, 15 and monastic school teacher San San Nwe, 19.

On September 29, two Miwa villagers, Thar Tun Oo, 63 and Naing Linn Soe, 22 were also hit by stray bullets in their village and underwent medical treatment.