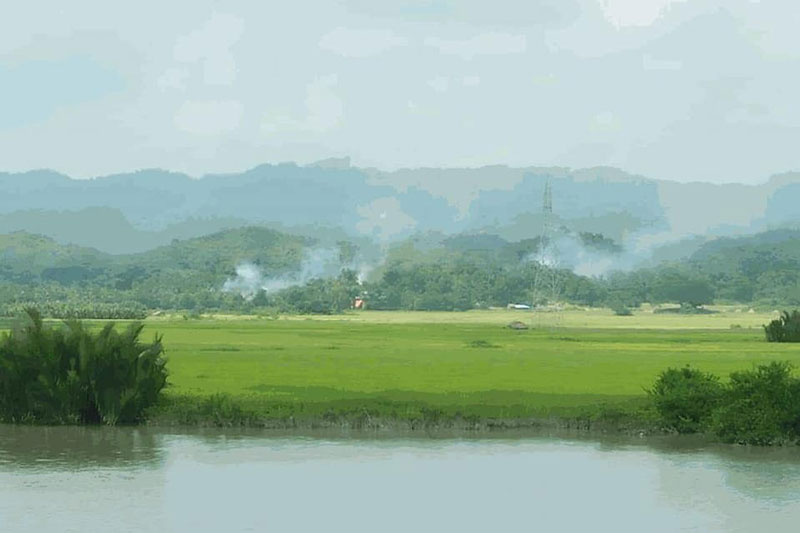 Kyaw Chit | DMG
October 9, Sittwe

The Arakan Army (AA) stated on October 8 that a faction of No 22 Tatmadaw troop burned down homes in Nwar Yone Taung and Kun Taung villages in Buthidaung Township on October 3 and 4.

U Hla Shwe, Buthidaung Township's administrator, confirmed that the houses in Kun Taung village were destroyed by fire on October 4, while U Aung Thaung Shwe, a member of the Pyithu Hluttaw, also said that he saw from Zedi Taung village a group of Tatmadaw soldiers set fires in Kun Taung village.

When DMG asked Colonel Win Zaw Oo, head of the Western Command, about the fires, he responded that the Tatmadaw wasn't responsible.

The AA also said that the Tatmadaw set up camps in the villages and monastery compounds and shot randomly into nearby places. 

The AA mentioned in the statement that Tatmadaw had arsenals in the compound of Thayat Pyin monastery and Kyar Nyo Pyin village in Buthidaung Township and launched offences using residential areas as protective cover.

On October 1, Buthidaung Township's Sangha Maha Nayaka Committee requested the state government to stop the Tatmadaw from setting up camps in religious sites.

Buthidaung Township's Sangha Maha Nayaka Committee, said that Buddha statues and religious buildings at Thone Sat Ta Bone Pagoda in Sango Taung village have been damaged because Tatmadaw units had camped on the pagoda platform. 

Meanwhile, a proposal urging the Arakan State government to stop both sides from engaging in fighting while "using religious and residential places as cover" was submitted to the State Hluttaw and approved on September 23.