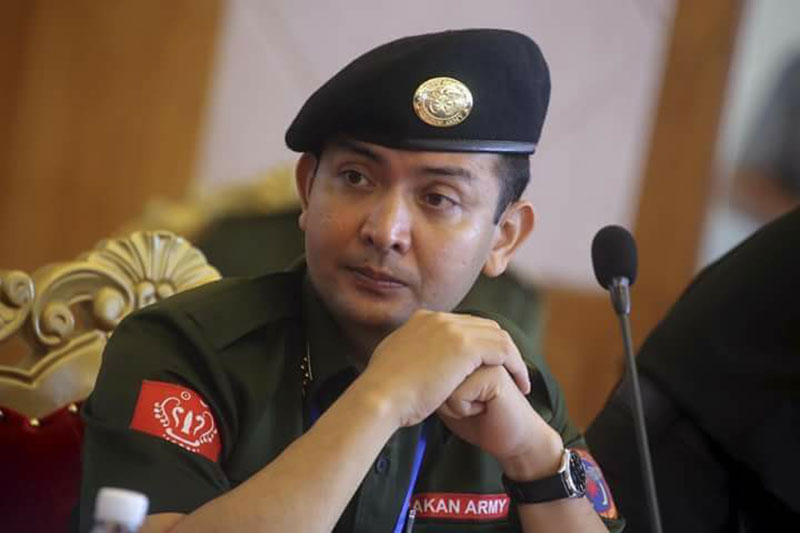 Khin Tharaphy Oo/DMG
21 October, Sittwe

Political problems cannot be resolved by arresting relatives of the leaders of the Arakan Army, spokesperson of the AA Khaing Thukha told the DMG.
The AA chief's brother-in-law and his little daughter were arrested by police on 18 October at Yangon International Airport when he returned from Bangkok after medical treatment. Ma Moe Hnin Phyu, younger sister of the AA chief, was also arrested when she picked up her ailing daughter and husband Ko Kyaw Naing at the airport.
The husband and wife have remained in custody but the child was sent to relatives later, according to their family.
"Political problems will not end by arresting relatives of the leaders of the ULA/AA. It is necessary to stop persecution on Arakanese people. The government will face negative consequences that follow this kind of act," Khaing Thukha said.
Ko Kyaw Naing has been arrested by the Special Branch and his case has been opened at Mayangone township police station under section 52 (a), (b) and (c) of the Counter-Terrorism Law, an officer from Yangon Region Police Force told the 7 Day Daily. Another police officer said that the case has been opened against Ko Kyaw Naing only.
Ko Aung Mrat Kyaw, younger brother of the AA chief Maj- Gen Twan Mrat Naing, was arrested on 10 July on suspicion of fundraising for the AA. He was arrested at the Yangon International Airport after he was deported from Singapore. He has also been charged under the Counter Terrorism Law.
The armed conflict between the Tatmadaw and the AA in Arakan State has been intensifying.
Meanwhile, the Tatmadaw entered some villages to interrogate or arrest villagers on suspicion of involvement with the AA.
As many as 217 people have currently been detained on suspicion of ties with the AA, according to the Rakhine Ethnic Congress (REC).