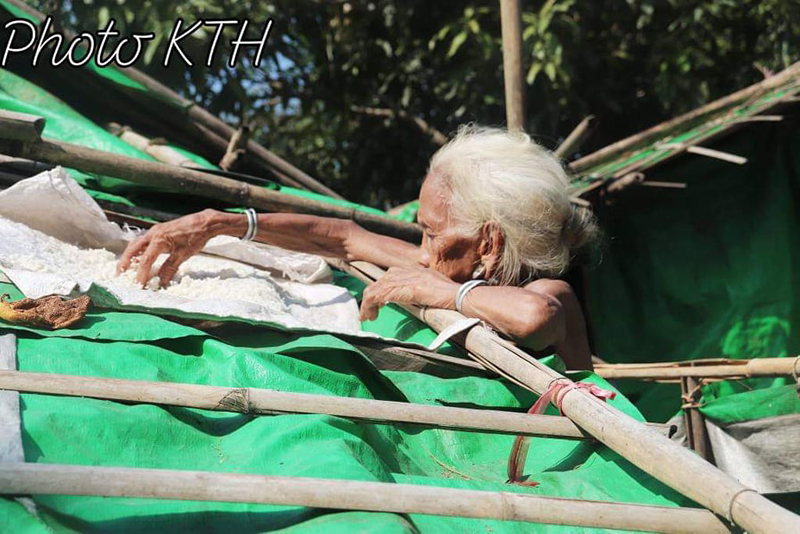 Kyaw Thu Htay/ DMG
24 October, Sittwe

Since Arakan State government did not arrange land for war refugees, officials from War Taung IDP camp in Kyauktaw Township have to rent land for IDPs, village administrator U Sein Shwe Bu told the DMG.

More than 1200 people from over 200 households are taking shelter in the War Taung IDP camp. They are from different villages in Kyauktaw Township such as Khamaung, Taewa, Panyar Gyi, Chin Ma Wun Taung and Nga/ Sa Yine Kaing.
The camp was built on five acres of farmland. The rental fee is K500, 000 per acre, so the total amount is K 2,500,000 [$ 1,667] for a year, the village administrator said.

"Sayardaw [head monk] from the village monastery and local residents had to pay the rental fee for the land, so we have a difficulty. We addressed our situation to authorities. They responded that they will arrange for the rental fee. But we haven't received it so far. We want the government to help us because the rental fee is not a lot of money for the government," he said.

However, the government has been constructing buildings to settle IDPs in, regional minister for Municipal Affairs U Win Myint said.

The number of IDPs in Arakan State has reached over 65,000 and they are coping with myriad challenges.