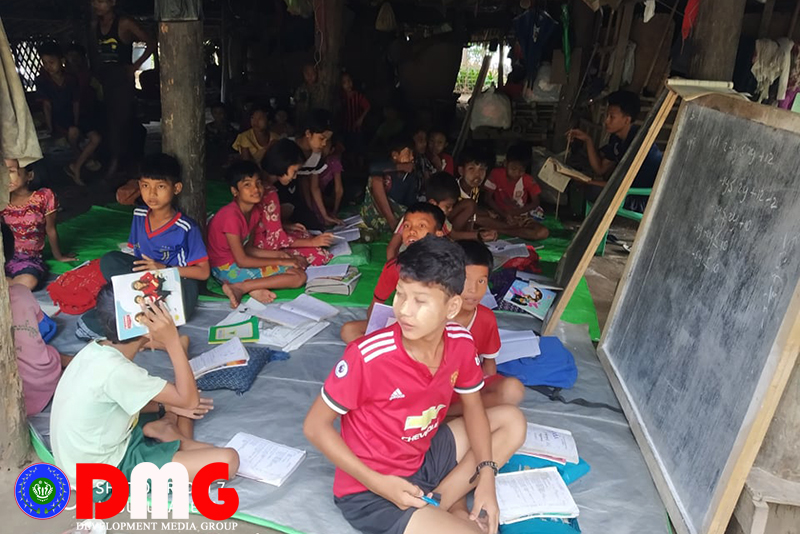 Cha Lu Aung/DMG
October 31, Sittwe
Nine government schools were closed in Buthidaung Township because of clashes between the Tatmadaw and the Arakan Army (AA), according to the township education officer office.
Five out of nine schools are primary schools in Kan Pyin, Sapar Htar, Kwan Taung, Shitshar Taung and Ouyin Thar villages, and the other four schools are primary schools and middle schools located in Nwar Yone Taung, Sango Taung, Pyin Chaung and Arlan Chaung villages.
"Although some schools are closed because of the fighting, we arrange for children in IDP camps to continue studying at nearby schools," the township education officer U Maung Than Naing said.
U Khin Maung Latt, a member of Amyothar Hluttaw, said on August 6 during a Hluttaw meeting that there are more than 5000 students staying at IDP camps in Arakan State, and the education fund or special urgent fund should be used for those children's education.
The education minister said in August that there are 53 IDP camps in Arakan State, and the ministry has arranged for more than 2000 students to continue studying at nearby schools.
The conflict between the Tatmadaw and AA started in Arakan State in December last year and it now has been spreading in many townships. Some schools in conflict affected areas are closed permanently, and some schools are closed during fighting and reopened when things are stable.