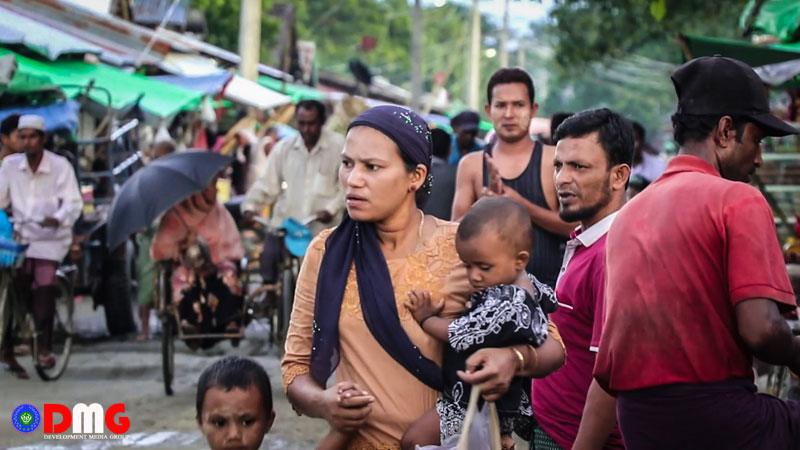 Win Nyunt | DMG
16 December, Sittwe
 
More than 2000 Muslims in Buthidaung Township, Arakan State, have been affected by the ongoing fighting between the Tatmadaw and Arakan Army, Buthidaung Township administrator U Shwe Hla Aung told the DMG.

People are taking shelter in their relatives' homes in Phone Nyo Late, Wa Yit Kyun, Say Oh Kya and Phaya Pyin Aung Pa villages. They have been provided food by ICRC and WFP, U Shwe Hla Aung said.

"They build houses in villages where their relatives are staying. In Phaya Pyin Aung Pa village, they are staying in schools," he said.

There are more than 1700 IDPs in Phone Nyo Late village, more than 70 in Wa Yit Kyun village, 170 in Say Oh Kya village and more than 100 in Phaya Pyin Aung Pa village, according to district administration office.

Muslims from Buthidaung and Maungdaw regions have faced challenges when the Tatmadaw conduct clearance operations after the Arakan Rohingya Salvation Army's attacks on police outposts in 2017. More than 700,000 Muslims fled to Bangladesh due to the retaliation of the Tatmadaw, the UN said.

The number of IDPs in Arakan State is nearly 100,000 because of fighting between the Tatmadaw and Arakan Army and they are facing difficulties.

International organizations apart from WFP and ICRC are not allowed to provide aid for IDPs in Arakan State that exacerbates problems.

Moreover, Internet access has been banned since June in four townships: Ponnagyun, Kyauktaw, Myauk-U and Minbya where IDPs take shelter, resulting in communication setbacks.