DMG tally finds dozens killed or injured, many more anxiously eyeing aftermath of latest ceasefire in Arakan State
Fifty-one civilians died and 143 others were injured in four months of renewed fighting between the Myanmar military and Arakan Army (AA) in Arakan State and Chin State's Paletwa Township, according to a DMG tally.
By DMG 09 Dec 2022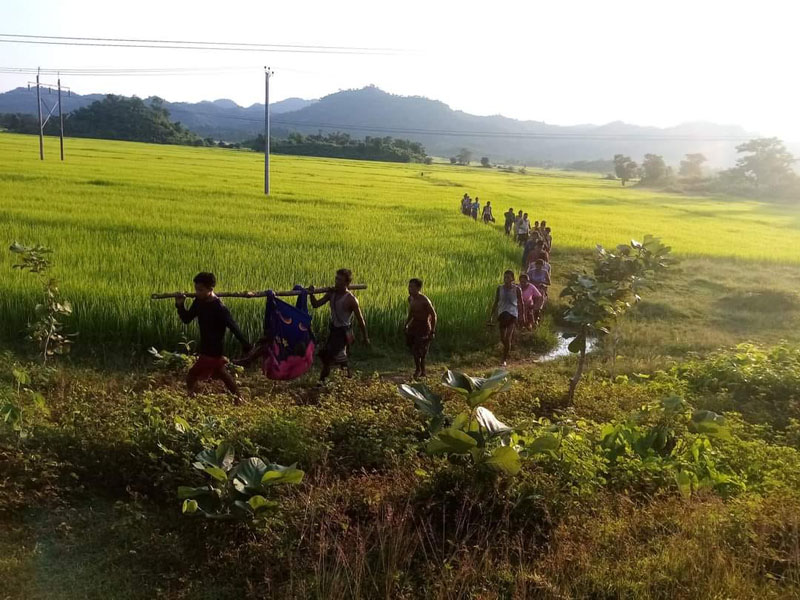 DMG Newsroom
9 December 2022, Sittwe

Fifty-one civilians died and 143 others were injured in four months of renewed fighting between the Myanmar military and Arakan Army (AA) in Arakan State and Chin State's Paletwa Township, according to a DMG tally.

They were killed or injured by artillery strikes, landmines, drone attacks and gunshots from August to the end of November. Artillery strikes accounted for the majority of casualties.

Seven people died and 16 others were injured in Maungdaw, Mrauk-U and Paletwa townships in August. Three died and 23 others were injured in September in Minbya and Kyauktaw townshipw. Minbya was hit hardest that month, as one died and 10 others were injured.

In October, 11 people died and 31 others injured in Minbya, Kyauktaw, Buthidaung, Sittwe and Rathedaung townships. Nine victims were killed by artillery strikes. Minbya was again hit hardest as one died and 13 others were injured.

In November, 30 died and 73 were injured in Maungdaw, Kyauktaw, Ponnagyun, Sittwe, Mrauk-U and Rathedaung townships, and Samee town in Paletwa. Twenty victims were killed and 66 others were injured by artillery strikes and the like.

Townships-wise, Maungdaw was hit hardest with 13 fatalities, followed by Kyauktaw and Ponnagyun with eight each.

Family members of the slain villagers and those injured say they have received no assistance from the junta-controlled Ministry of Social Welfare, Relief and Resettlement.

Five villagers were injured by junta artillery strikes in Shwepyi Thit Village in Kyauktaw on November 5. They are still receiving treatment at Kyauktaw Hospital, and need financial assistance.

"Previously, the International Committee of the Red Cross provided assistance. However, no group is helping them now. In the early days of the renewed fighting, cash assistance was provided in some fatal cases. But those injured did not receive any assistance. We collect money from villagers to help them [the five injured villagers]," administrator of Shwepyi Thit Village told DMG.

A Muslim man from Letsaung Kauk Village in Kyauktaw Township was also hit by an artillery strike on November 5, and had his right arm amputated. He is receiving treatment at Sittwe Hospital and has had difficulty paying medical costs, according to sources close to his family.

"His wife has had to borrow money from her neighbours to pay for his medical costs and meals," said a source close to the victim.

Some Arakan civil society organisations and individual donors continue to provide cash assistance for those injured, but they say their assistance is not enough.

Social organisations in Arakan State have called on the regime to allow local and international nongovernmental organisations to resume their humanitarian operations in Arakan so that victims' families and the injured can receive the assistance they need.

"It will help them a lot if they can get aid from international agencies," said U Zaw Zaw Tun, secretary of the Rakhine Ethnics Congress.

Buddhist monk Thabawa Nadi, who is helping those affected by armed conflicts in Arakan State, called on the regime to help the victims and provide appropriate livelihoods for them during the ceasefire period.

"Those who were made disabled by the fighting should receive greater care and double the assistance given to those born with disabilities. And for families whose breadwinners were killed in the fighting, sources of livelihoods must be provided to thems; some small businesses that suit the region and that will give them regular income," he said.

DMG was unable to obtain comment from Arakan State security and border affairs Minister Colonel Kyaw Thura and Arakan State Administration Council spokesman U Hla Thein about how the regime plans to help the children, women and elderly persons affected by the fighting.

The Myanmar military and AA observed an informal ceasefire starting November 26, after months of renewed hostilities.