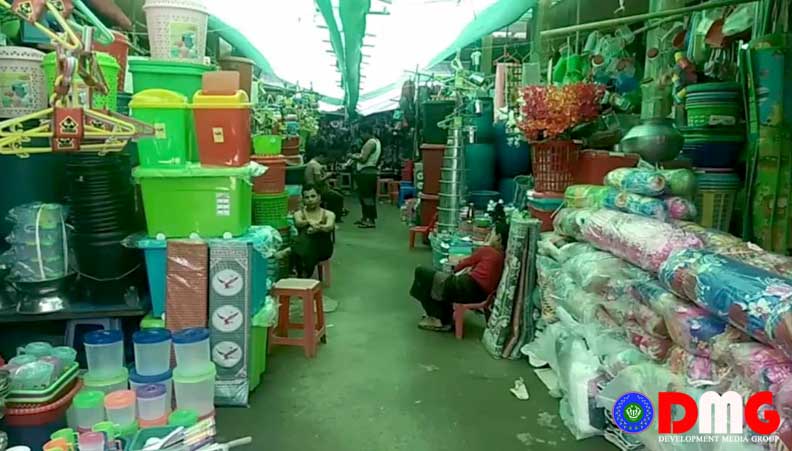 Wantha | DMG
November 17, Maungdaw 

Business has decreased at shops in Maungdaw town, shop owners at Maungdaw market said.

U Marmat Naw Sane, who runs a clothing shop at Maungdaw market, said that sales began to decline after the terrorist attack in Maungdaw Township in 2017, and it has never returned to normal. 

"We had 100 percent sales previously. Now we have only 30 percent, that's a drop of 70 percent," he said. 

Shop owners said that although the 2012 conflict damaged their business, the recent 2017 conflict was much worse and the sales have significantly dropped. 

There are more than 400 shops running at Maungdaw Myoma market.

They added that people, who fled to Bangladesh during 2017 attack, wanted to return home so that their businesses could return to normal. 

On the other hand, they realized that their businesses would be better if they are allowed to travel to Sittwe from Maungdaw freely.

The flow of trading has dropped from the previous times because clashes have been taken place between the Tatmadaw and the Arakan Army (AA) on the Angumaw- Maungdaw highway road running from Sittwe to Maungdaw. 

"If people from the other side [Bangladesh] come back, our businesses would be better. Now we don't have anyone to sell our products to," A shop owner U Maung Htein said. 

The United Nations stated that the Arakan Rohingya Salvation Army (ARSA) attacked in Maungdaw region in 2017, and when the Myanmar Security Forces retaliated, more than 700,000 people fled Maungdaw to Bangladesh. 

Even though Myanmar signed an agreement with Bangladesh to receive the returnees in November 2018 and August 2019, no one returned home yet. 

The DMG asked Muslim shop owners why the people who fled to Bangladesh didn't come back home, they said they didn't know.  

Maungdaw District Administration Department said that they have had 397 refugees returned voluntarily from Bangladesh to Arakan State so far.