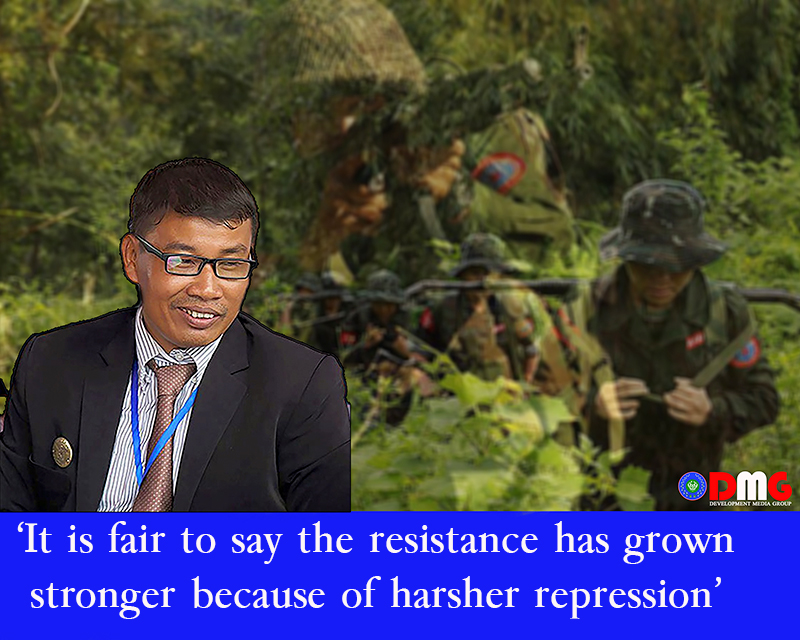 Arakan State has returned to a region of active armed conflict, with the Myanmar military and Arakan Army (AA) locked in renewed hostilities since August. The military has arrested scores of civilians, and imposed tight travel restrictions in many parts of Arakan State. 
AA spokesman U Khaing Thukha recently spoke with DMG about the evolving military situation and its effects on civilian populations in Arakan State, as well as discussing the AA's views on a junta-organised general election slated to be held next year, and the political ambitions of the Arakanese armed group. 
DMG: How is the current military situation between the Myanmar military and the AA? 
Khaing Thuka: Clashes are taking place daily in Arakan State. The Myanmar military has been reinforcing its ground troops and weaponry by every means. It has also increased its naval and air presence across Arakan State. So, confrontations are likely to intensify in the days to come. 
The combined forces of the 22nd and 77th Light Infantry Divisions of the Myanmar military have been making fierce assaults in northern Maungdaw [Township] since November 18. And we are repulsing attacks. So, we can say fierce clashes continue to take place. 
DMG: How many junta bases, including border guard police outposts and police stations, has the AA seized since the renewed fighting? How many casualties have the two sides suffered? 
Khaing Thuka: It is difficult to tell the exact number. In some places, junta troops have abandoned their outposts due to certain difficulties. In some places, they are trying to retake control of outposts. In some places, some four or five smaller outposts have combined into a large base. 
DMG: The Myanmar military has also carried out aerial attacks in recent fighting. How is the AA handling air raids? 
Khaing Thuka: The regime is faced with the worst crisis in its history now, and has suffered heavy casualties in ground warfare. So, it has been using its Navy and Air Force, which are its advantage, in the fighting. They mainly use artillery and air support in order to keep up the plummeting morale of their members and curb the growing number of desertions. 
But taking a look at the history of wars globally, we can say that air superiority does not always determine the outcome of a war. For example, US soldiers were forced out of Vietnam. Air superiority is not necessarily the determining factor in a war. 
DMG: The Myanmar military has blockaded roads and waterways in Arakan State. What do you want to say about that? 
Khaing Thuka: While the regime is reinforcing its troops and weaponry across Arakan State, it has blocked the flow of basic commodities to innocent civilians by blockading roads and waterways. The Myanmar military is doing this deliberately to starve our people. 
It is a grave violation of human rights to target civilians who have nothing to do with the fighting. The regime has blatantly and repeatedly violated the Geneva Conventions, which call for protecting innocent civilians during war. The regime has been committing war crimes. 
DMG: The military has recently arrested civilians and civil servants over their alleged ties to the AA in southern Arakan State, including Kyaukphyu, Thandwe, Taungup and Manaung townships, despite the fact that no clashes have taken place in those areas. Why do you think they are doing so? 
Khaing Thuka: The regime has been on a detention spree in southern Arakan State lately. They are doing so to control the growing administrative and judicial mechanisms of our Arakan People's Authority. They are in fact instilling fear in Arakanese people so that they dare not join the Arakanese liberation movement led by the ULA/AA. [Editor's Note: The United League of Arakan is the political wing of the Arakan Army, and their collective administrative apparatus is often described as the Arakan People's Authority.] 
The theatre of war has expanded into southern Arakan because the regime has arbitrarily detained and tortured innocent civilians during their series of raids on villages in southern Arakan. It is fair to say the resistance has grown stronger because of harsher repression. 
DMG: The AA has established its own administration and courts system in Arakan State. How successful has it been to date? 
Khaing Thuka: It would be more correct to talk about how much the regime has lost its control over Arakan State. There are certain difficulties as we are replacing their administration with our own. But we are doing our best to overcome those difficulties, and keep on strengthening and improving public services delivery by our Arakanese People's Authority. 
DMG: The AA said it is working according to the 'Way of Rakhita.' Could you articulate what that means? 
Khaing Thuka: In short, the Way of Rakhita is a policy centred on the national interests of Arakanese people. It is a path centred around the interests of all people living in Arakan State and focused on peace and stability, development and social harmony for Arakan State and the people living here. 
DMG: The Arakan Army has officially revealed its desire for a confederation. What does that look like in the AA's imagination? 
Khaing Thuka: We have repeatedly talked about the political status that we want to have. We have said that Arakanese people must have a political status not less than a confederation. Under any circumstances, we will try to achieve a political status in which Arakanese people can determine their own fate. 
DMG: Has the AA had any discussions with the parallel National Unity Government, either politically or militarily? 
Khaing Thuka: We have already said that we recognise and respect NUG and any organisation that was born out of the Spring Revolution; that is fighting to free themselves from the yoke of military dictatorship. Our stance remains the same. We view them as partner organisations. 
DMG: What is the AA's view on the general election that the regime plans to hold next year? 
Khaing Thuka: We have no comment for the time being. It is still early. But along the course of history, elections held by either the military or civilian government did not bring about any improvement for our Arakanese people. It can't be assumed that elections to be held in Bamar  State [mainland Myanmar] will make [positive] changes to the lives of Arakanese people. 
DMG: Could the fighting escalate further in Arakan State and Paletwa Township, Chin State? What do you want to tell people about the military situation? 
Khaing Thuka: Considering their reinforcements across Arakan State, and their activities, we can say that clashes could further intensify in Arakan State and Paletwa Township.