One for the Road
U Maung Thar Ni has been building a road linking the two villages since 2012, for the convenience of villagers.
By Admin 04 Mar 2023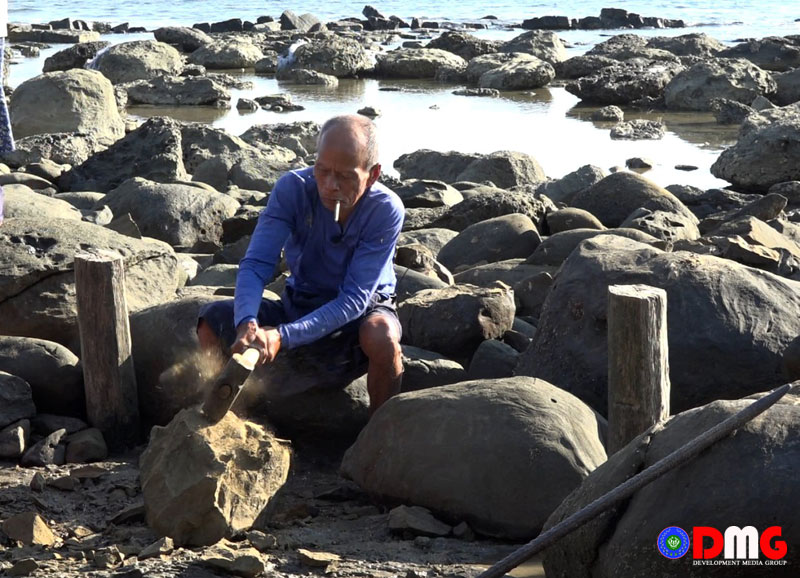 Written By Min Thant
A diminutive old man raises a disproportionately large hammer and pounds a boulder bigger than himself. It is quite a tough job for a 77-year-old man to swing a 16-lb hammer, but U Maung Thar Ni has been doing this for more than a decade, paving a road with his bare, calloused hands.
Located at the far end of Anauk Payonekar Island in Arakan State's Pauktaw Township, Kalathein is a small village with only around 30 households that primarily engage in fishing for their livelihoods. Almost all of the villagers in Kalathein are ethnic Arakanese people, except for U Maung Thar Ni and his family, who are ethnically Khami.
There is neither a healthcare facility nor a cellphone mast in Kalathein. As for transportation, it is a challenge villagers have faced for generations.
Kalathein residents mainly must travel by boat in cases of emergency. But this sometimes amounts to dying in the rainy season, when waters can be particularly treacherous. Kalathein is located at the mouth of the sea, and giant waves batter their village in times of bad weather.
From Kalathein on foot, it is a strenuous 90-minute walk through forested and mountainous footpaths to the nearest village, Soe Mei Gyi.
U Maung Thar Ni has been building a road linking the two villages since 2012, for the convenience of villagers.
"I use a 16-lb hammer to pound large rocks, and a smaller hammer to make gravel. I also use two spikes and a crowbar," said U Maung Thar Ni.
U Maung Thar Ni says he is building the road in consideration of the healthcare difficulties and other emergencies that his neighbours in Kalathein face due to their lack of connectivity. The job involves pounding boulders into gravel, and then paving the road through a mountain pass.
U Maung Thar Ni's determination, diligence, and perseverance is vividly reflected in the quality of his workmanship. Age is just a number for him.
In the past, he had to travel many times to Pauktaw to settle land disputes at court in the town. He once slipped and got injured while traversing the rough terrain along the forested and mountain paths.
Those experiences motivated him to do something that no one else in his village had tried — to overcome the natural barrier separating Kalathein from its neighbouring villages.
"When the court hearing finished, I normally arrived at Soe Mei Gyi Village around 6 p.m. I would often fall down or face various other difficulties as I proceeded to my village," said U Maung Thar Ni. "So, I decided to build a road. I might not be able to donate large amounts of cash in this life. So, I decided to do good deeds with my physical work. I have been building a road for not only monks and laypeople but also for animals and cattle, so that they can travel conveniently."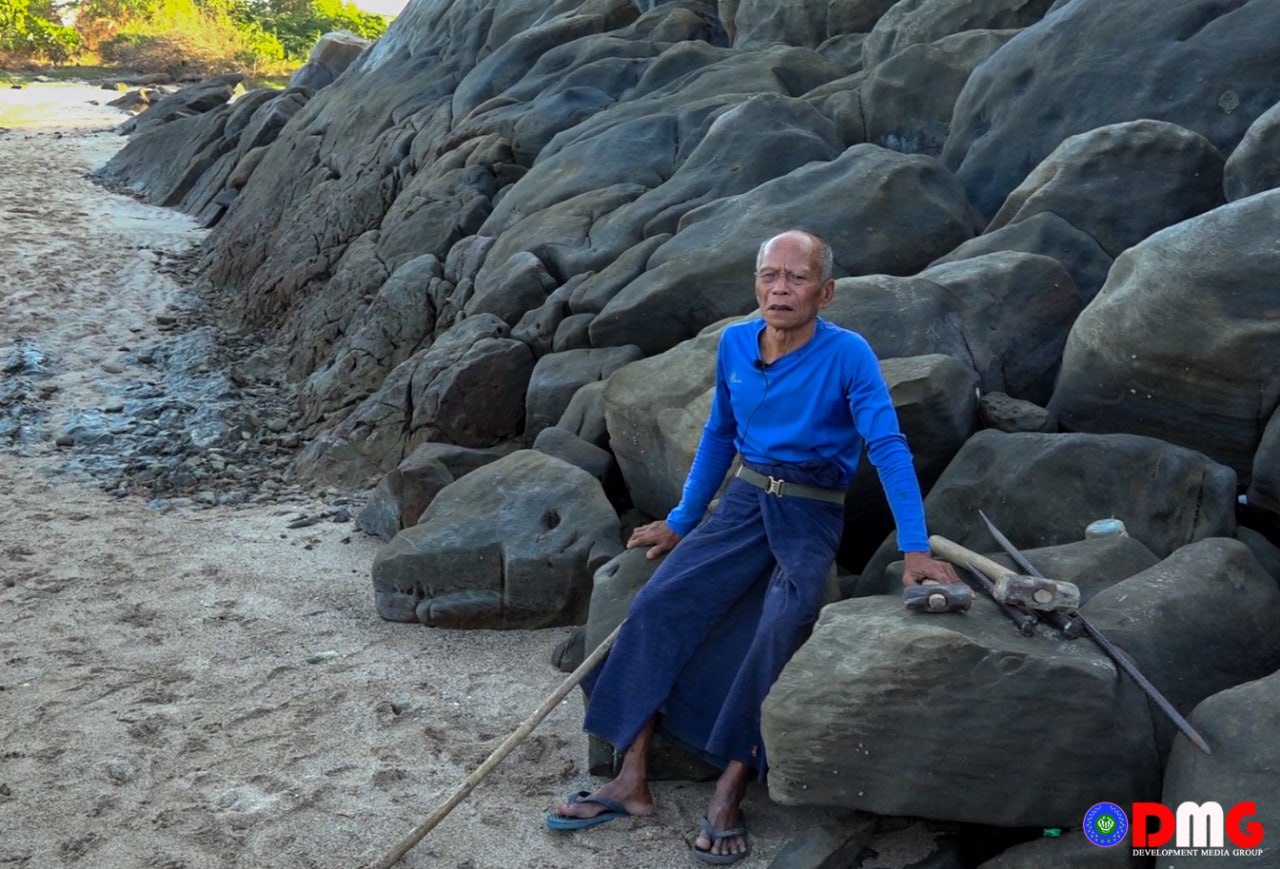 After 10 years of roadwork, he has finally finished laying the road through one of the two mountains that form the natural barrier. U Maung Thar Ni is pleased to see that some local residents and Buddhist monks are using the road so far built by him.
"I believe that about one-third of the road has been successfully built," he said.
U Maung Tha Ni aims to build the road up to Kyauktaung (Rock Mountain), so that residents can easily travel to Soe Mei Gyi Village in the future.
"This mountain is on one side, and it's a bit steep on the other side, so I'll have to dig for at least a month. Once we can build a road through this small mountain, there will be only fields on the other side, so it will be easy to build a road," he said.
U Maung Thar Ni, though strong in perseverance, has not been in good health due to his age. His right leg has suffered from numbness and his vision in his right eye is blurry. U Maung Thar Ni said that due to these conditions, construction of the road has stopped.
U Maung Thar Ni's ambition is to build a pagoda in his garden on the mountainside, which is on the road currently under construction. U Maung Thar Ni also revealed that he wants to hand over the road-building responsibilities to his grandson, who lives with him.
"After my death, if my children and descendants want to continue my legacy, they must continue to build this road," he said.
For now, the unfinished Kalathein-Soe Mei Gyi inter-village road is lined with saplings, as if waiting to one day provide shade for those who will continue to build it. Time will tell whether U Maung Tha Ni's ambitions will be achieved.