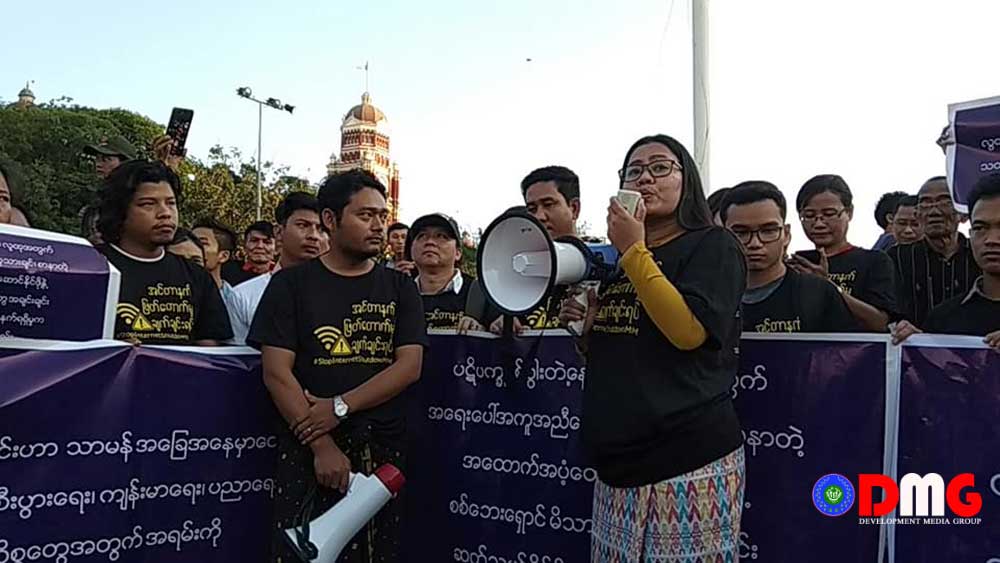 Myat Win Kyaw | DMG
December 25, Yangon

Civil society organizations and parliamentarians were among a group of protesters at Yangon's Maha Bandula Park last week who called on the government to immediately end its internet blackout in parts of Arakan State.

For more than six months, the government has blocked internet access in Mrauk-U, Minbya, Kyauktaw and Ponnagyun townships, where there have been recurrent clashes between the Tatmadaw and the Arakan Army (AA).

"We can't say that internet access won't be cut in Yangon like in Arakan State. That's why when we are moving toward federal democracy, the public doesn't accept things that can damage that federal democracy. The public needs to have a full, federal democracy," Amyotha Hluttaw lawmaker Daw Htoot May said.

The Yangon-based group Athan (Voice) led the demonstration on December 24, saying the internet shutdown was a violation of the human rights of the 700,000 people living in the four affected Arakan State townships.

"Internet access should be reopened, and we mainly asked to abolish sections 77 and 78 of the Telecommunications Law as well," said Maung Saung Kha, director of Athan. "We believe that it is important for everyone to have mobile phone and internet access under all circumstances."

The government initially shut down internet access in nine townships, including eight townships in Arakan State and Paletwa Township in Chin State, on June 21. While internet access was later restored in some of those townships, connection speeds were reduced, and in Mrauk-U, Minbya, Kyauktaw and Ponnagyun, the blackout prevails.

"People should enjoy their rights. It is committing a crime if they are denied that [internet access]," said Pyithu Hluttaw lawmaker U Oo Hla Saw, who also urged the public to continue fighting for justice and against injustice.

During the demonstration, organizers asked the public to sign a petition urging the government to lift the internet blackout.

The protesters noted that Arakan State is one of the least developed states in Myanmar, with the internet blackout only further stunting development in the region.