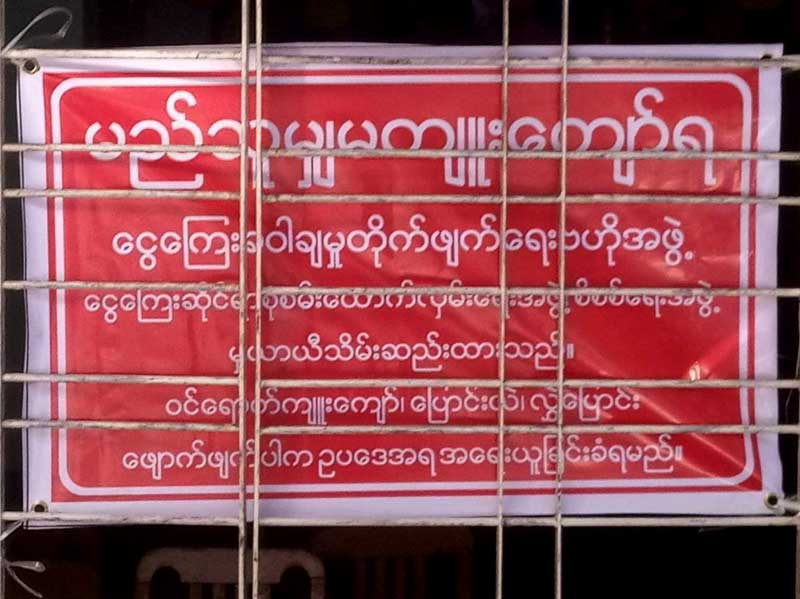 Myat Win Kyaw | DMG
January 10, Yangon
 
Authorities have sealed off a restaurant in Yangon that counts among its investors the brother of Arakan Army (AA) chief Twan Mrat Naing.
 
Phoenix Restaurant, on Athawka Road in Yangon's Tamway Township, had been closed for a week prior to January 9, when anti-money laundering authorities, police officers and officials from the Bureau of Special Investigation descended on the eatery to seal off the premises.
 
Arakanese youths in Singapore including Ko Aung Myat Kyaw, the AA leader's brother, were among the restaurant's shareholders, said a lawyer at a hearing on January 10. Legal proceedings are underway against nine people including Ko Aung Myat Kyaw, under Sections 50(j) and 52(a) of Myanmar's Anti-Terrorism Law. Ko Aung Myay Kyaw and several other Arakanese living in Singapore were deported back to Myanmar and then detained in mid-2019.
 
"Phoenix Restaurant was operated with money of the youths who have paid tax in Singapore. It was opened under a legal license," the lawyer for Ko Aung Myat Kyaw, U Kyaw Myo Tun, told DMG.
 
"He [Ko Aung Myat Kyaw] said the Central Body on Anti-Money Laundering was doing things as it likes," U Kyaw Myo Tun added.
 
Elsewhere in the commercial capital, a similar fate appears to have befallen Maha Nwe Restaurant, located on Yadana Street in Yangon's South Okkalapa Township and owned by Arakanese vocalist Win Ko Khaing. Authorities also sealed it off on the afternoon of January 9.
 
Signboards were posted outside both restaurants after they were sealed, reading, "Do not trespass. The Central Body on Anti-Money Laundering, Financial Intelligence Unit and Scrutiny Board have temporarily confiscated this. If anyone trespasses, changes, hands over or destroys this, action will be taken against them in accordance with the law."
 
A social media page for Maha Nwe Restaurant posted, "As Maha Nwe Restaurant has been temporarily closed, a time to reopen it will be announced."
 
Thursday's action against Phoenix Restaurant is not the first time that family members of the AA leader have been targeted. Twan Mrat Naing's wife and two children were detained by Thai immigration authorities in the northern city of Chiang Mai in December.