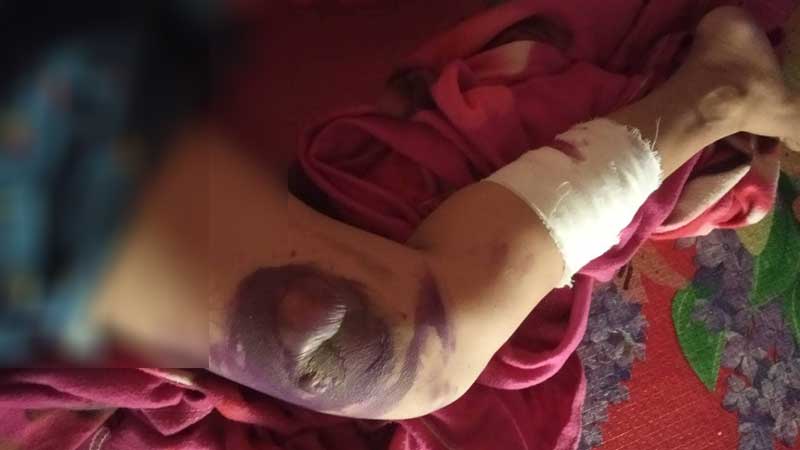 News Team | DMG
10 January, Ann
 
A woman from Kha Moung Taw village in Arakan State's Ann Township has been hospitalized after allegedly being tortured by Tatmadaw soldiers, the victim's husband told DMG. The military, however, has refuted the accusation.
 
According to U Tin Tun, the husband of Daw Ma Hla, Tatmadaw soldiers poured scalding water on his wife and cut her legs with a knife. A Tatmadaw regiment arrived at the couple's home in search of U Tin Tun, who they suspect of having ties to the Arakan Army ethnic armed group, on January 4. When they were not able to find U Tin Tun, they instead took his wife to a nearby schoolhouse and tortured her there, U Tin Tun said.
 
"My wife was taken to the hospital by neighbours in the village because she couldn't walk well," he said.
 
He also accused Tatmadaw personnel of taking K3 million (US$2,000) in cash, clothing worth around K1 million (US$667), rice and other items from his home.
 
A neighbour who declined to give his name for security reasons told DMG that he was keeping a close watch on the house in the incident's aftermath.
 
The son of the victim and a friend of his were also arrested by the Tatmadaw, but U Tin Tun remains on the run.
 
DMG sought comment from Colonel Win Zaw Oo, a spokesperson for the Tatmadaw's Western Command, regarding the allegations made against military personnel. He denied that there was any misconduct by soldiers in Kha Moung Taw village.
 
A statement released by the Tatmadaw did acknowledge that its troops were involved in what it described as "law enforcement activities" in the village on January 9, when it said two men were detained for having suspected links to the Arakan Army.  
 
Tatmadaw security personnel, together with eyewitnesses, raided the house of U Tin Tun and discovered seven detonators, 30 lengths of black piping and one pair of military trousers, the statement added.
 
The statement said the two detained suspects were handed over to the Ann Police Station, while the search was continuing for U Tin Tun and another at-large individual with alleged AA ties named Byar Gyi, from Mel Let Moung village.