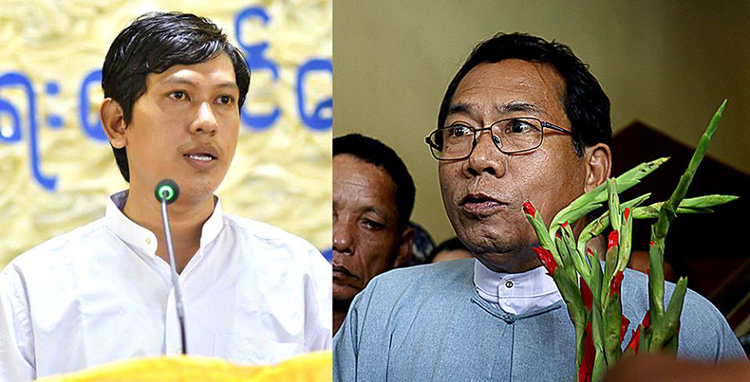 Khaing Roe La | DMG
24 January, Nay Pyi Taw

The Union Supreme Court has rejected a final special appeal for prominent Arakanese politician Dr. Aye Maung and writer Wai Hun Aung, who were sentenced last year to 20 years in prison for high treason and incitement.

The two men submitted several appeals to higher-level courts following their initial convictions but all have been denied, with the latest rejection handed down by the Union Supreme Court in Naypyidaw on January 24.

"We have submitted appeals to higher-level courts for my father but all appeals have been denied without hearing," said Arakan State lawmaker U Tin Maung Win, who is the son of Aye Maung.

Aye Maung, a former MP himself, and Wai Hun Aung still have a chance to submit a petition to the president, but according to the brother of Wai Hun Aung, that is not an option that the author intends to pursue.  

"My younger brother did nothing wrong," U Thein Win said. "Being a writer, he shared knowledge about histories of the world, Myanmar and Arakan State, which were in conformity with the event. He told the truth, so we wouldn't submit a petition to the president."

Wai Hun Aung and Aye Maung were arrested after giving talks at a public event held in Arakan State's Rathedaung Township in 2018 to mark the fall of the Arakanese Kingdom to the Konbaung dynasty. The duo were sentenced to 20 years' imprisonment by the Sittwe District Court on March 19, 2019, for incitement and high treason.

U Tin Maung Win said he did not yet know whether his father Aye Maung would seek recourse via a presidential petition.

The Arakan Front Party (AFP) also issued a statement on January 24, demanding that the government release political prisoners, including Aye Maung and detainees who have been arrested in conjunction with the current conflict between the Arakan Army (AA) and the Tatmadaw in Arakan and Chin states. Aye Maung is said to be the founder of the AFP and his son is also a member of the party's leadership.