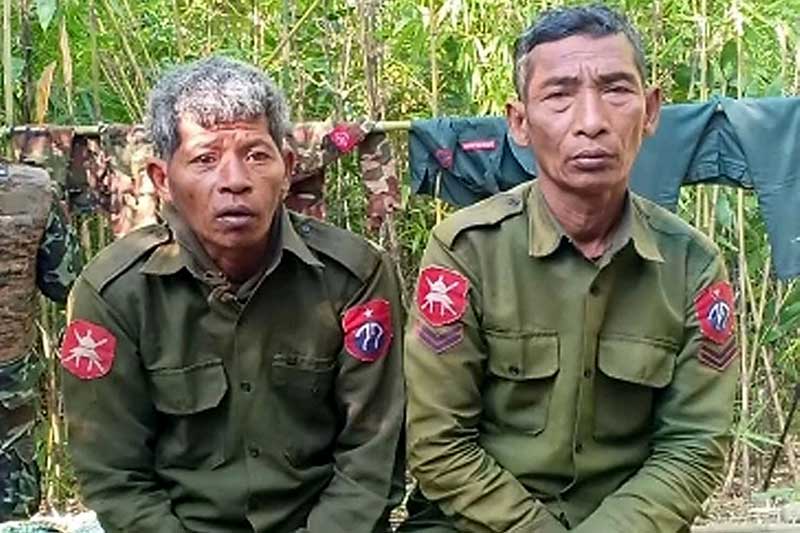 Khin Thayaphy Oo | DMG
January 28, Paletwa

The Arakan Army (AA) released two detained Tatmadaw corporals at around noon on January 28 at Kin Talin village in Chin State's Paletwa Township, said Khaing Thukha, a spokesperson for the ethnic armed group.

The AA said that Corporals Maung Htwe, 49, and Zaw Zaw, 53, were of advanced age and in poor health so the group turned them over to Kin Talin village elders as a show of humanity.

"The main reason that we released those two people is that they are old and sick. We released them according to humanity. We gave them K50,000 [US$33] each for their travel expenses," Khaing Thukha said.

The AA said it detained 13 Tatmadaw members, including an officer from Light Infantry Division No. 77 based in Hmawbi, Yangon Region, after a clash on the Karyama mountain range in Paletwa Township in November.

The AA has also proposed a much larger release of all of the Tatmadaw soldiers it has detained during clashes over the past year if the Tatmadaw reciprocates by releasing AA members in its custody and Arakan State civilians similarly detained.

Hundreds of civilians in Arakan State have been arrested by the Tatmadaw over the past year, with many facing charges under the Unlawful Associations Act or the Anti-Terrorism Law for allegedly having illegal ties to the AA.