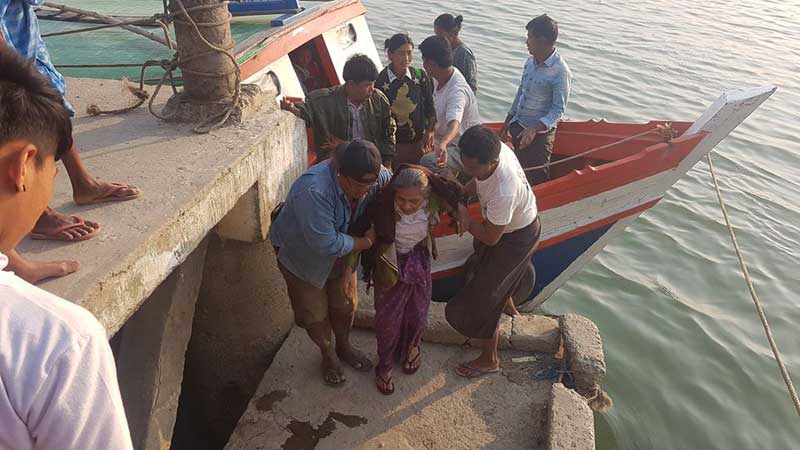 Aung Htein and Win Nyunt | DMG
February 6, Rathedaung
Fifty-seven residents trapped by fighting in Rathedaung Township's Kalachaung and Manyin Taung villages were safely rescued on February 5 through the cooperation of the township Sangha Nayaka group and activists.
"We had lots of difficulties on the way to the villages. There are [military] camps that are working on security. We were questioned there. We risked our lives to go there," said Ko Ba Thar from the Youth Activist Group.
Clashes between the Tatmadaw and the Arakan Army occurred on February 2 between Kalachaung and Manyin Taung villages. Most residents of the two villages fled their homes but some were pinned down and unable to leave.
Ko Ba Thar said the rescued villagers are being sheltered at Shwe Parami Monastery in Ratheduang town but are facing difficulties because more than 500 IDPs are already staying there.
"There are IDPs who arrived first. They have to sleep on the ground without any sheets. And the new people who have arrived there also have to sleep like that," he said.
IDPs staying at the monastery are in need of temporary tents, tarpaulins, medicines and food.
Severe fighting between the Tatmadaw and the AA has been reported across several parts of northern Arakan State, including near Manyin Taung and Kalachaung villages in Rathedaung.
There are more than 100,000 IDPs in Arakan State, many of whom face difficulties meeting basic needs such as food, shelter and clothing.