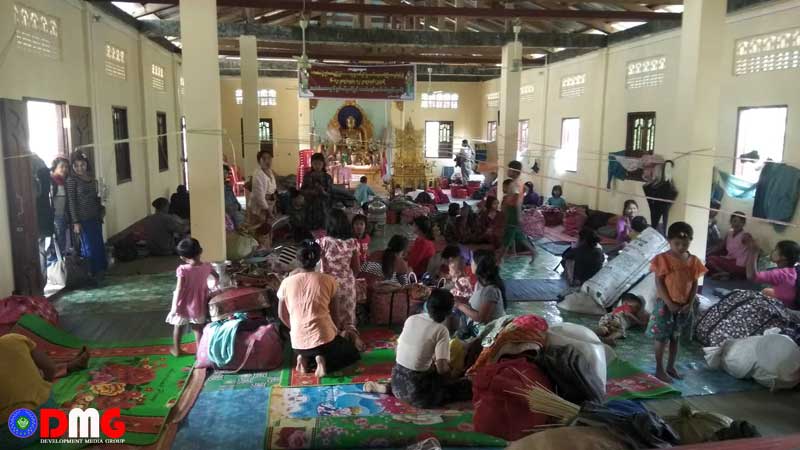 Wuntha (Maungdaw) | DMG
18 February, Buthidaung
 
Nearly 800 people recently displaced from their homes and seeking refuge in Buthidaung town have arrived to find the IDP camps there ill-prepared to accommodate the influx and in dire need of more relief aid, camp manager Ko Tun Myat Win said.

Residents from some villages in Arakan State's Buthidaung and Rathedaung townships fled their homes amid a steady barrage of artillery fire and have been sheltering at the Mya Taung Monastery's community hall in Buthidaung town since February 15, Ko Tun Myat Win told DMG.

"We need to arrange for children to pursue their education. For health, we need to build toilets. For food, we have some donors, but the government has not yet come and provided so far. We are now building tents where they can temporarily stay," he said.

He said the new arrivals total more than 700 people from about 180 households.
Daw Oo Mya Than, a resident of Thamee Hla village, said she abandoned her home after an artillery shell landed in the village, setting some houses on fire.

"We could not carry our belongings. We fled home in a panic. My son is in Grade 5 and my daughter is in Grade 7. We do not know where they can continue studying and sit their exams," she said.

While direct collateral damage from ongoing conflict prompted some like Daw Oo Mya Than to flee their homes, for others it was the perceived risk of staying put amid escalating hostilities in the region that led them to leave.

Prior to the arrival of hundreds more IDPs over the past week, more than 2,000 people had been sheltering in two IDP camps in Buthidaung town; 528 people from 140 households at the Yan Aung Myay camp and more than 1,900 people from 447 households at the Lan Ma Kyaung camp.