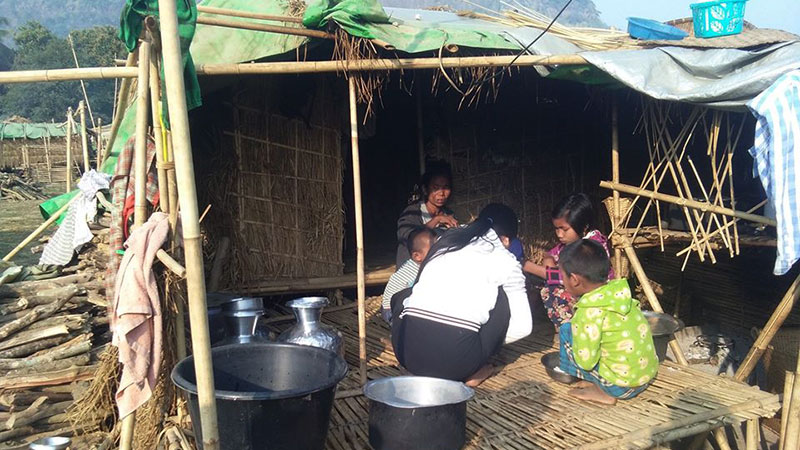 Myat Swe | DMG
March 2, Sittwe

The Rakhine Ethnics Congress (REC) has released updated figures for the number of internally displaced people (IDPs) in Arakan State, with the new data showing the IDP tally to have surpassed 128,000.

REC has been collecting data on IDPs in Arakan State and previously stated, on January 25, that there were 106,614 IDPs in the state at that time. But with additional clashes in February forcing more people from their homes in Mrauk-U, Minbya and Rathedaung townships, the figure was updated on February 29, with the IDP total now standing at 128,435.

REC chairperson U Shwe Baw Sein said that IDPs are facing food shortages as well as accommodation problems as many of the temporary huts that serve as shelter in the camps are falling apart.

"Winter just finished now and summer is coming. So kids in the camps have runny noses and the flu, as well as skin-related diseases and diarrhea due to unclean water," he said.

The government has shut down mobile internet services in eight townships of Arakan State, as well as Paletwa Township in southern Chin State, adding to the region's woes.

"Donations cannot be requested online without internet access. So IDPs are facing difficulties in the availability of food, shelter and clothing," said one volunteer assisting those displaced.

Fighting between the Tatmadaw and the Arakan Army ethnic armed group has intensified in some parts of Arakan State in recent months, with more than 130 civilians killed and over 360 injured by stray gunfire, landmines and artillery fire, according to the Arakan Students Union (Universities – Yangon).