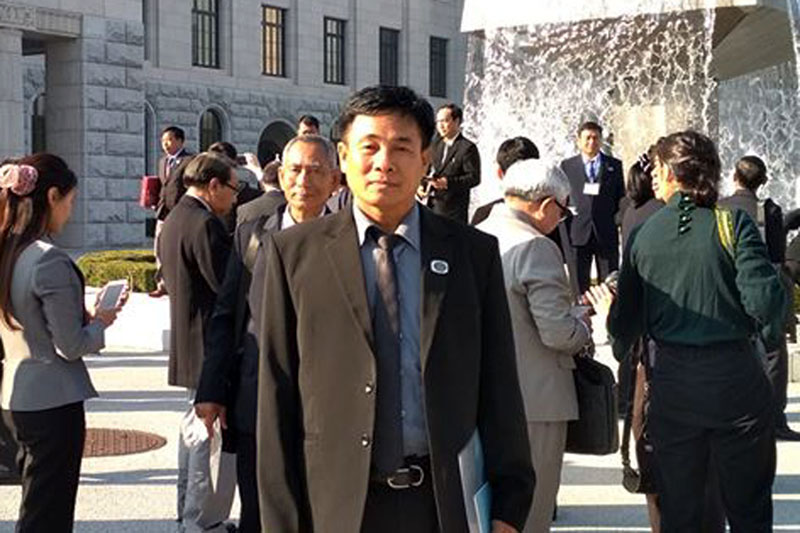 Khin Thayaphy Oo | DMG
March 9, Sittwe
The Tatmadaw has filed a complaint against Reuters news agency and Buthidaung Township MP U Maung Kyaw Zan under Section 66(d) of Myanmar's Telecommunications Law, the lawmaker facing the legal jab has confirmed.
U Maung Kyaw Zan said he was targeted in the complaint because he told Reuters of how residents in Buthidaung Township's Kin Taung (Muslim) village were killed by an artillery shell blast on January 25.
The case was filed by Lieutenant Colonel Pyi Sone Aung from a Tatmadaw unit known as "No. 15 SaKaKha" at the Buthidaung Township police station on March 5. Section 66(d) is an often-criticized provision of the Telecommunications Law that covers criminal defamation.
"The complainant, Lieutenant Colonel Pyi Sone Aung, is from Buthidaung-based SaKaKha 15. The accused are Reuters and myself, because I talked to them," U Maung Kyaw Zan said.
On January 25, an artillery shell landed on a house in Kin Taung village, with the blast killing two women and injuring seven people. Reuters reported that U Maung Kyaw Zan, the Arakan Army ethnic armed group and a local villager had blamed the Tatmadaw for the shelling, which the military denied.  
U Maung Kyaw Zan said that he would face any legal proceedings brought against him in accordance with the law.
"They will have to ask permission from the Hluttaw speaker through the Ministry of Home Affairs to file a case against me because I am a member of the Hluttaw," he said, referring to the Upper House seat that he occupies. "After that process, police can proceed with their job."
Maung Saungkha, founder and Executive Director of the free expression advocacy group Athan, said the government and Tatmadaw were taking various measures to silence any voices attempting to expose human rights violations.
"If they prosecute this case, who will journalists ask for information in future? Newsgathering has been blocked in many ways. The townships that are facing the internet blackout will go further into darkness. I see that both the government and Tatmadaw are trying in many ways to stop any voices from leaking to the public," he said.
Since the National League for Democracy government took power in April 2016, the military had brought 47 lawsuits against nearly 100 people for free expression-related alleged offences, Athan said in January of this year. Section 66(d) was among the Tatmadaw litigants' favored provisions to wield against defendants.