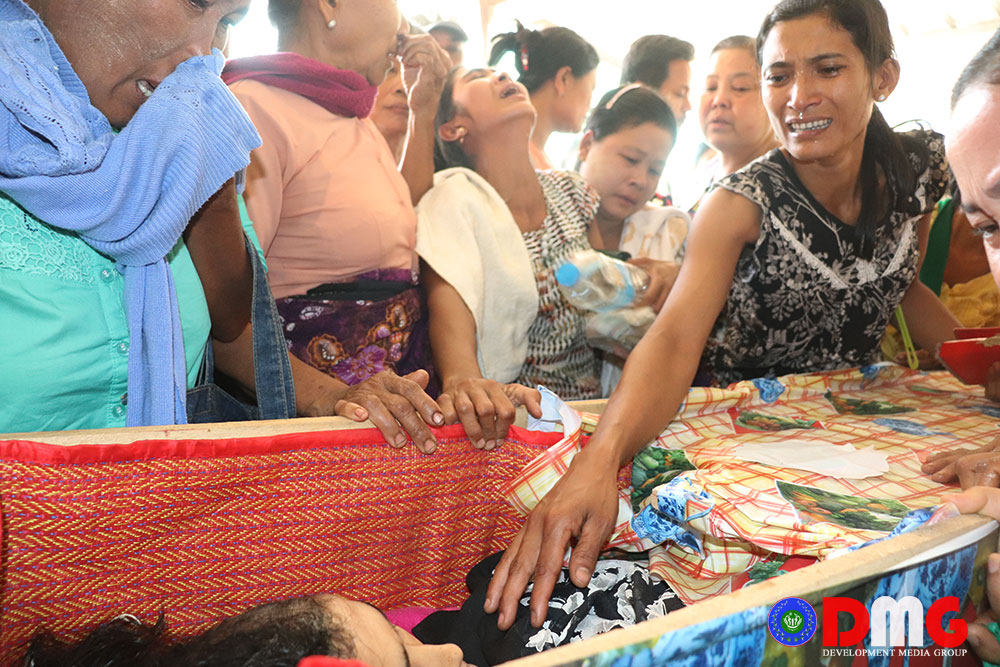 Myo Thiri Kyaw | DMG
14 March, Sittwe 
Two women who had been receiving medical treatment at Sittwe General Hospital for severe gunshots wounds succumbed to those injuries on Saturday, family members said.
Their deaths brought to five the number of civilian fatalities on a bloody March 13, when some 30 people were injured by gunfire that local administrators and residents accused Tatmadaw soldiers of unleashing indiscriminately on a handful of villages. The injured came under fire in Tin Nyo, Paung Toke and Taung Oo villages of Mrauk-U Township, and Thazi and Theintan villages in Kyauktaw Township. 
Family members said Daw Than Aye Kyi, 56, died on the morning of March 14 and Daw Nwe Nwe Oo, 40, died the previous evening of severe gunshot wounds to the neck and head, respectively. 
Daw Than Aye Kyi from Mrauk U Township's Bu Ywet Ma Nyo village had been working as a patients' assistant at a now-shuttered station hospital in Tin Nyo village when she was struck by one of several bullets to riddle the health facility on March 13.
U Kyaw Thein Hla, the father of Daw Nwe Nwe Oo, said her funeral would be held in Sittwe because they were facing difficulties transporting her body to their village.
"We could not take her body to our village because soldiers opened fire on a mass group. She made income for our family. Now, we lost her and I don't know who will earn income for us," U Kyaw Thein Hla said. 
DMG phoned Colonel Win Zaw Oo of the military's Western Command and Brigadier-General Win Zaw Oo from the Tatmadaw True News Information Team regarding Friday's shootings, but they could not be reached for comment. 
Civilians continue to bear the brunt of hardships in the ongoing conflict between the Tatmadaw and the Arakan Army in Arakan State, where more than 120,000 people have been internally displaced and hundreds have been killed or injured.