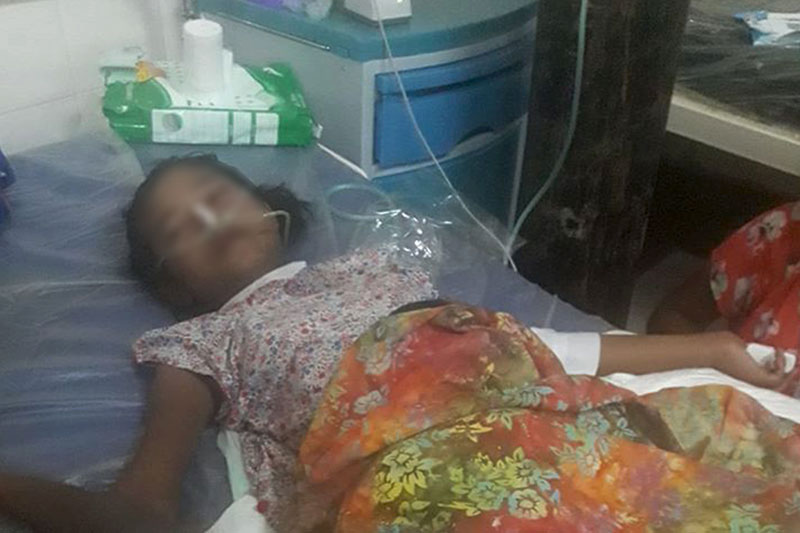 Hnin Nwe | DMG
March 15, Sittwe
A teenage girl from Mrauk-U Township's Tin Nyo IDP camp who suffered a gunshot wound on March 13 and had been receiving treatment at Sittwe General Hospital died late Saturday night, her family members said.

Several people at the Tin Nyo camp were injured on Friday morning by gunfire that local administrators and residents accused Tatmadaw soldiers of unleashing indiscriminately after a landmine hit a military vehicle nearby. 
Among the victims was 13-year-old Ma Hnin Moe Nwe, who succumbed to her injuries at around 11 p.m. on March 14. She was first admitted to the hospital in Mrauk-U town and later referred to Sittwe General with a severe abdomen wound.
"I am so angry that my daughter died unjustly. I want to know why they fired their guns. I think they are acting excessively," said U Aung Thein Win, the deceased child's father.
DMG attempted to contact the military's Western Command spokesperson Colonel Win Zaw Oo regarding accusations of Tatmadaw troops' culpability in the death of Ma Hnin Moe Nwe and others at the Tin Nyo IDP camp, but he did not respond to phone calls seeking comment.
The teen's deaths raised to at least six the number of civilian fatalities on a bloody March 13, when some 30 people were hit by gunfire blamed on Tatmadaw soldiers. The casualties reportedly came under fire in Tin Nyo, Paung Toke and Taung Oo villages of Mrauk-U Township, and Thazi and Theintan villages in Kyauktaw Township. 
Two other women from the Tin Nyo IDP camp also reportedly died of gunshot wounds. 
According to the Arakan Students Union (Universities – Yangon), more than 130 civilians have been killed and over 360 injured due to conflict between the Tatmadaw and the AA in Arakan State.