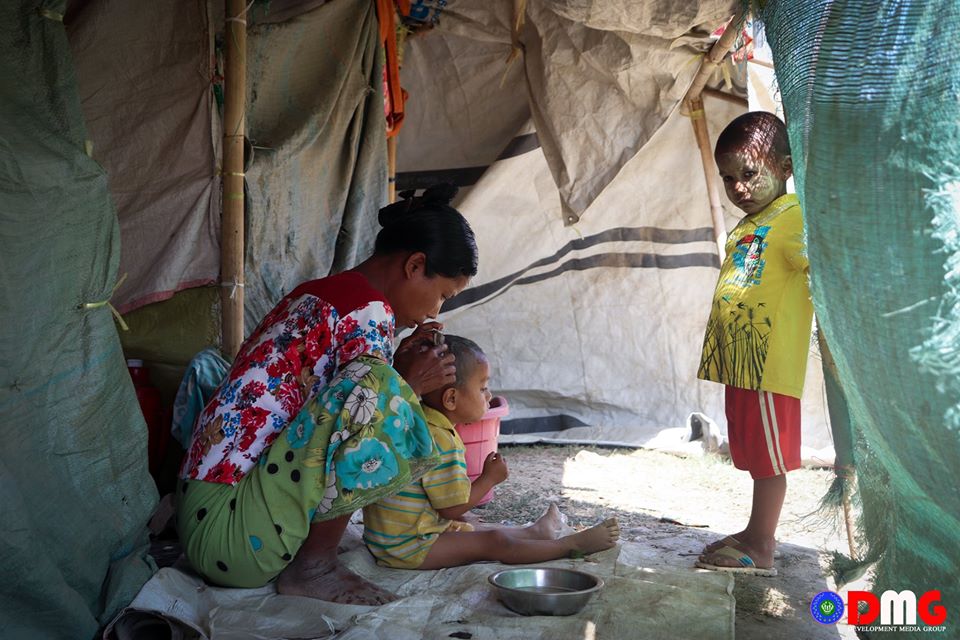 Khaing Roe La | DMG
21 March, Nay Pyi Taw

The Myanmar government will step up relief aid provisioning for people displaced by conflict (IDPs) between the Tatmadaw and the Arakan Army, the Ministry of Foreign Affairs said in a statement released on March 20.
The decision to boost aid, as well as to allow a greater humanitarian footprint for international organisations including the International Committee of the Red Cross (ICRC), was made following a recent coordination meeting among relevant ministries.
The statement said the Myanmar government would meet with the ICRC and UN agencies operating in the country to discuss their programs in detail, in order to be able to provide humanitarian aid in Arakan State more effectively.
Arakan State's large and growing IDP population is primarily due to clashes between the Tatmadaw and the Arakan Army that have plagued the region for more than a year. Many of the displaced live in temporary camps, where they lack adequate provision of basic necessities such as food, clothing and shelter.
Daw San Yu, who has taken refuge at Shwe Parami IDP camp in Rathedaung Township, said: "The tent is roofed with tarpaulin and the ground is floored with straw. Now, it is pretty hot. But we need to get shelter with a secure roof and floor before the monsoon [season]."
U Oo Tun Win, the Pyithu Hluttaw MP representing Kyauktaw Township, Arakan State, said IDPs as well as people trapped in their villages by hostilities required immediate and effective livelihood support, especially food and shelter.
"It should provide educational programming for the COVID-19 also," he added, referring to the global coronavirus pandemic.
As part of preventative measures aimed at staving off the virus, the government has banned public gatherings. Avoiding large concentrations of people is not an option for many IDPs, however, with camps for the displaced in Arakan State often housing hundreds or thousands in close-quarter living arrangements.
In total, the number of IDPs across Arakan State has surpassed 120,000.