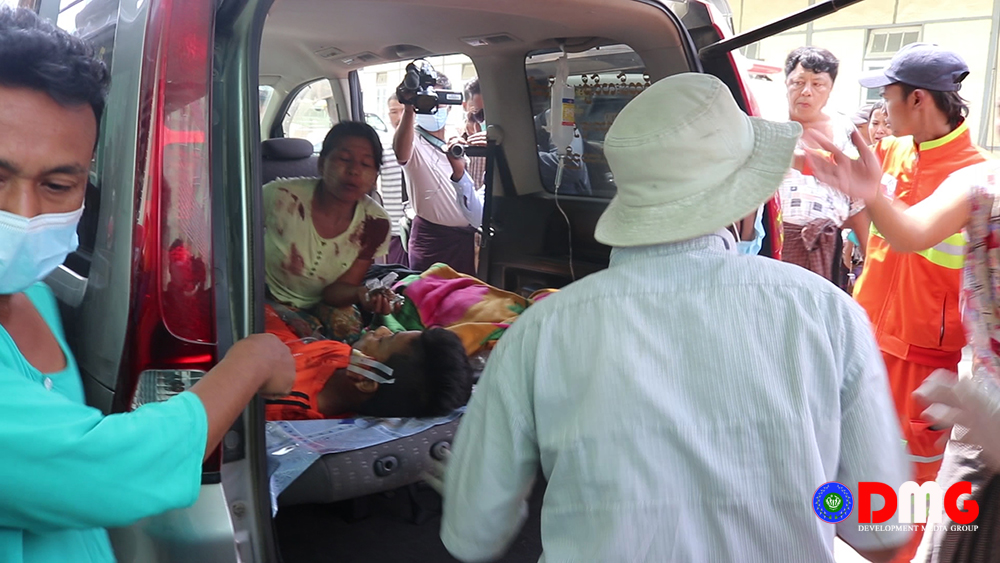 Zaung (Ponnagyun) and Kyaw Thu Htay | DMG
April 13, Ponnagyun

Eight civilians were killed and another 13 were injured by a barrage of artillery fire on April 13 at Kyauk Seik village in Arakan State's Ponnagyun Township.

Relatives of the injured and deceased said that at least four artillery shells exploded at around 8 a.m., with the dead and injured left scattered along a road in the village.

Locals said the artillery shells were fired from the direction of the Ponnagyun-based No. 550 Tatmadaw battalion, which is stationed about three miles from Kyauk Seik village.

"They left home to go to the motor road," said Daw Ma Sein Than, the mother of one of the injured. "As soon as they left home, the shells landed in the village. When we went and checked that place, all of them, including my son, were on the ground."

Four people with ages ranging from 11 to 26 died on the spot, according to their families. Another four succumbed to their injuries, with two dying at Ponnagyun Hospital and the other two dying while being transported to Sittwe General Hospital.

In total seven boys and men and one woman were killed.

Ko Zayar Linn from the Ponnagyun Shwe Yaung charity group, which assisted those injured on Monday, blamed two of the deaths on delays at a security checkpoint where those transporting the wounded were held up for questioning.

"Their situation was still good," he said of the early prognosis of the two civilians who died on the way to Sittwe General Hospital. "But it took about an hour checking at the gate. They died unnecessarily due to the lengthy check."

Three of the injured are being treated at Sittwe General Hospital and the remaining wounded have been hospitalised in Ponnagyun.

Arakan State lawmaker U Aung Than Tin from Ponnagyun Township, who personally visited Kyauk Seik village in the shelling's aftermath, said of the deadly incident: "There wasn't fighting in that area. That's why it looks like a targeting of civilians."

Regarding accusations that the local Tatmadaw unit was the source of the artillery fire, DMG sought comment from Colonel Win Zaw Oo of the military's Western Command and Brig-Gen Zaw Min Tun from the Tatmadaw True News Information Team, but neither of them answered their phones.